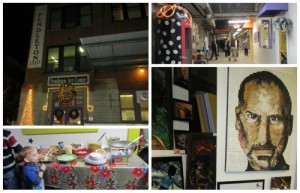 Last month I was invited by a friend to visit the Pendleton Art Center for their monthly Final Friday event.  My friend Jeff Johns shows his art work in Studio 414 with several other artists, one of  the many studios at Pendleton Art Center in Cincinnati (see a small sample of Jeff's work in the collage to the left – the Steve Jobs piece is his).  I had also been wanting to visit one of my favorite fabric stores in this area, St. Theresa's Textile Trove and they have a home at PAC as well, so I decided to take three of my kids and explore the Final Friday show.  I was not sure what to expect, but I knew from their website that PAC is home to the world's largest group of artists under one roof.  Over 200 artists come together at PAC to work and to show their masterpieces.  There are 8 floors of studios to browse, as well as the Studio at 510, the Annex, and the Cafe Studios.

When we arrived we went straight to St. Theresa's Textile Trove because Mama was itching for some new fabric, and I haven't been to their shop in ages.  St. Theresa's carries the most unique & flamboyant fabric you will ever find.  They have bolts of fabric, but they also sell fat quarters.  They have a huge chest overflowing with rolled fat quarters for you to choose from.  I love finding little bits of crazy fabric to add to quilts I'm working on.  They sell oil cloth, batik fabric, and many other kinds of fabrics, too numerous to list.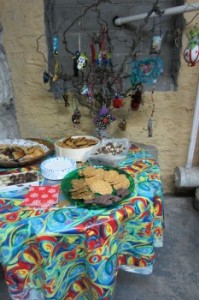 They also have a great collection of buttons & beads for sale, as well as many other products.  I could spend hours in this store.  If you love to sew or love crafts you should check them out.  After we made our fabric purchases we lingered for a bit outside the store, where they had a few festive tables set up with quite a variety of snacks.  The kids were in heaven.
Next we spent some time wandering the floors, checking out some of the studios.  I say "some" because there is no way to take it all in during one visit!  So many different works of art to enjoy!  We saw paintings, photographs, ceramics, sculptures, stained glass, prints and more.  This visit only whet my appetite though, I feel that we only saw a tip of the iceberg.  I'm eager to go back and explore some more.  Maybe even for a date night!  We only spent a couple hours at PAC, because there's only so much art critiquing a four year old can do (and yes, he's an art critic).  There were many families in attendance the night we were there, which I think is great.  I love exposing my children to beautiful works of art.  One of the best things about Final Friday was that the children had the chance to talk to the artists and look at the artwork up close.  I loved the conversations I had with my kids that night about all of the different pieces we saw.  Our conversations helped me see the artwork from their perspective.  And there was such a festive atmosphere at the PAC for Final Friday.  Many of the studios were serving food, and some even had music.  The artists were so friendly and engaging, that you couldn't help but be excited about being there.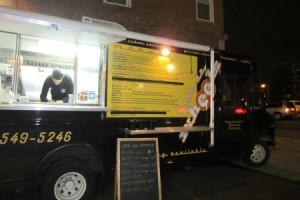 After we walked around for a while and it was time to go home we came outside to find the Cafe de Wheels food truck set up by the front doors.  I couldn't resist, we had to order some snacks to take home with us.   Their Funky Fries were out of this world.  I skipped the burger, but I'm hoping to find them again soon and try one!  Sam recommends the tater tots.
All in all it was a wonderful evening, the Mama got to experience a cultural event and even talk to adults!  The children were exposed to many different types of art work, which will help encourage them to be creative.  And I'm not going to lie, we went home with a rather large bag of goodies…fabric, birthday gifts, works of art and more.
Final Fridays at PAC are the last Friday of each month from 6-10 pm.  The Pendleton Art Center is located at 1310 Pendleton Street in Cincinnati.  There is information about parking on their website, but I want to point out that they do offer valet parking for $5, which is quite convenient.  They are also open for Second Look Saturdays, and by appointment.
Final Friday events are not limited to PAC, many other local art galleries in Cincinnati participate.  For more information on Final Friday events visit CincinnatiArts.com.
When not blogging for Family Friendly Cincinnati, you can find Katie writing at her personal blog, www.thelittlethingsjournal.blogspot.com.