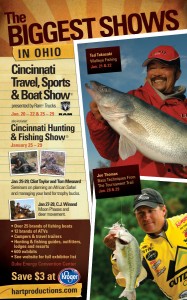 This afternoon, my family had the chance to get a sneak peak at the Cincinnati Travel, Sport and Boat Show which kicks off Friday and runs all weekend at the Duke Energy Center. I can't remember the last time I was in the Convention Center and I've never seen it with wall to wall boats and trucks and more boats, oh my! It's quite amazing.
We were there to meet Nick Leonard, a local fishing star, and a few of his fin-ny friends. Nick is holding seminars on Saturday at the Boat Show and one in particular is perfect for our Family Friendly readers.
Take a Kid Fishing – will be held at 1pm and again at 5pm on Saturday afternoon.  Nick will give parents and kids all the inside info to get you on the water, baiting the hook and reeling in the big one.  Fishing since the ripe old age of 3, Leonard has plenty of expertise to share.  He told us as soon as he was able to walk he was holding a pole.
Nick is also an expert on all the great places to take kids fishing – places I bet a lot of us forget about.  You don't need a boat or a trip to Lake Cumberland to enjoy a fishing trip with your little people. Hamilton County Parks have many options all over the Tri-State, many with fishing tutorials and classes for kids.
The seminars are free to Travel, Sports and Boat Show attendees and there'll  be some fun prizes for a few lucky audience members (like the tackle box modeled by the lovely P above and the fishing pole Nick is holding). Summer is right around the corner, so let Nick show you how to Take YOUR Kid Fishing and start a fun family tradition!