This weekend I spent some "grown-up" time with my Mom attending The Art of Hair grand opening complete with an unbelievable hair design runway show.  Seeing all the models decked out in their ultra glam get ups was so much fun. But, the main attraction was all the fabulous "up-dos" on the models – I had no idea hair could be transformed in so many ways.
It was something to see. I wanted to break out into song from Hair the Musical (Music by Galt MacDermot & Lyrics by Gerome Ragni and James Rado):
"Hair, hair, hair, hair, hair, hair, hair
Flow it, show it
Long as God can grow it
My hair
I want it long, straight, curly, fuzzy
Snaggy, shaggy, ratty, matty
Oily, greasy, fleecy
Shining, gleaming, streaming
Flaxen, waxen
Knotted, polka-dotted
Twisted, beaded, braided
Powdered, flowered, and confettied
Bangled, tangled, spangled, and spaghettied!"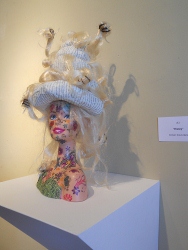 Lucky for you, you can still attend the exhibit now through Feb. 10, 2012 and see some fabulous art all revolving around "hair".  The Art of Hair would be a great way to spend a day with your girlfriends or you can plan a girls' day out with your daughters. I think pre-teens or teens would really enjoy this exhibit.  There's also a room filled with "Barbie" heads, all artfully decorated.  I loved the room filled with hair products from days gone by. You'll also get a chance to see works by Akinya Howard, Adrienne Antonson, Hong Chun Zhang, Laura Hartford, Jennifer Zimmerman and Matt Wiseman.  Plus, you can do all of this for FREE!  Wow!
If you've never been to The Carnegie Visual & Performing Arts Center, you are in for a treat.  I love reading about the history of buildings and The Carnegie has a great one.  The Carnegie and the adjacent auditorium were  originally built in 1904  for $85,000. It was used as a public library. It was almost destroyed in the early 1970's but luckily the Northern Kentucky Arts Council stepped in to save this beautiful historical building.  The first thing you'll notice when you enter the main floor is the large circular rotunda.  It was even more breathtaking when I got to the second floor and could both look down at the main floor and then gaze upwards at the beautiful "amber glass dome".
The Carnegie not only has changing art exhibits throughout the year (The Art of Food is March 2-April 13), but they also have great art programming for youth.  The Scripps Howard ArtStop series workshops offer very affordable (only $10/series) art & enrichment programs for kids ages 7-15 years). Their winter session is currently underway, but check back for future series.  In the summer they will also have Camp Carnegie which fills up fast so stay tuned for the 2012 program details.  The workshops are held in the Eva G. Farris Education Center. The Carnegie also provides art outreach programs to local schools and community events.
The Carnegie is home to the Otto M. Budig Theatre.  You can still purchase tickets for their theater series.  "The King & I"  will be held on the weekends beginning Jan. 20 through Jan. 29, 2012.  Then save the dates for "Pump Boys & Dinettes" (weekends April 13-19).  If you love live music, they have you covered.  Here's what's on the calendar for the rest of the year (from website):
The Carnegie and The Cincinnati Psychoanalytic Institute presents – The Mind and Music of Beethoven with Dr. Richard Kogan, piano
Thursday, March 8, 2012 | 7:30pm – Tickets: $25  
J.M. Barrie's "Peter Pan" – A Silent Film with Live Music
Thursday, May 17, 2012 | 7:30pm
Tickets: $19     
Viva la Divas! Starring Nancy James, Patricia Linhart, and Kathy Wade
Thursday, June 14, 2012 | 7:30pm
Tickets: $19
I hope you'll get a chance to visit The Carnegie Visual and Peforming Arts Center one day soon.  Make a day of it either enjoy lunch or dinner at one of the local eateries in Covington (click here and see some of the restaurant links The Carnegie has posted).
When not blogging for Family Friendly Cincinnati, you can find Kristin writing at her personal blog, MasonMetu (from me to you).
Disclaimer:   Our FFC co-founder, Shannan, works for The Carnegie but she didn't even know I was attending the opening (neither did I until my Mom surprised me – Go Mom!).  After visiting, I was very impressed and wanted to pass along all the great things this wonderful art institution offers to the community