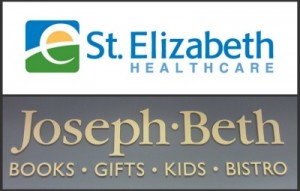 How many of you out there made New Year's Resolutions this year?  And how many of you made resolutions having to do with healthy living?  I made a few resolutions this year, more like promises to myself.  I said them out loud, I committed them to paper and I am RESOLVED to make them happen.  One of my resolutions was to promote healthier living in my family…by making more nutritious meals,  finding new fun ways for all of us to get exercise & be active, and teaching my children how to make wise decisions in regards to their health. 
Joseph Beth Booksellers and St. Elizabeth Hospital are teaming up to help all of us who made resolutions about our health to kickstart this new year.  They are partnering to host a Family Health Fair at Joseph Beth in Crestview Hills on Saturday, January 21st.  This would be a great opportunity to learn more about healthy lifestyles, get blood pressure checks, learn about Yoga and Tai Chi and much much more!  Check out this great list of  activities at the event:
Joseph Beth Booksellers at Crestview Town Centre, Crestview Hills, KY.  41017
 Agenda:
12:00-12:45 – Holistic Health Center:  Yoga & Tai Chi for the family
 1:00-1:45 – Cooking demo with St. Elizabeth and Remke bigg's (easy, nutritious recipes for families on the go)
 2:00-2:45 – Weight Management Center:  Fitness for the family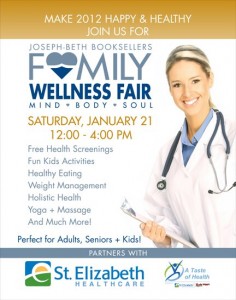 3:00-3:45 – Women's Wellness Center:  A Lifetime of Women's Wellness
 Below is the list of FREE activities happening during the entire event:
Women's Wellness:  Blood pressure checks  
Holistic Health:  Chair massages
Weight Management:  BMI checks
Cardio Van:  Screenings ($79 for all 3 including: Carotid artery disease, Peripheral arterial disease and Abdominal aortic aneurysm ) Must register at 859-301-WELL(9355)
Mammography Van:  No cost screenings (insurance will be billed, but there will be No out-of-pocket expenses) Must register at 859-655-7400
Don't miss this fabulous FREE event!
What kind of New Year's Resolutions did you make this year?