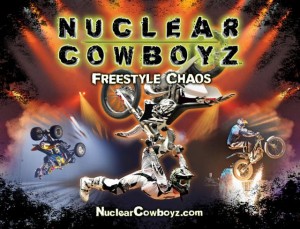 Our Nuclear Cowboyz ticket winners are….Tiffany W. and Jen S!!!!  Watch for an email from me coming soon!  Thanks to all who entered!!
Remember heading out on your bike and finding a leftover 2×4 board to set up a ramp so you could do cool stunts? (If you were me the coolest stunt you managed was flipping over the handle bars).  Well Nuclear Cowboyz are heading to Cincinnati's US Bank Arena on January 27 & 28 to show you how to do it right!
Nuclear Cowboyz brings freestyle motocross to a whole new level with this amazing new show.  I don't think I can even describe the spectacle, it's amazing!  Read on to hear about this fantastic show:
Nuclear Cowboyz 2012 has the greatest cast of freestyle motocross, trials and quad riders ever assembled, including recent X Games 17 medalists Ronnie Faisst, Adam Jones, Mike Mason, and Winter X Games medalist Caleb Moore. Joined by world-class medalist riders Taka Higashino, Beau Bamburg, Derek Garland, Nixey Danielson, Brody Wilson, Jimmy Fitzpatrick, Dustin Miller, Wes Agee, Matt Buyten, Geoff Aaron, Keith Wineland, Derek Guetter, and Colton Moore, NuclearCowboyz 2012 takes unleashed power to its massive ramps in a freestyle performance of pure danger and raw combat.
You have to see it to believe it!  The minute my boys heard about this show I knew their little imaginations were going wild.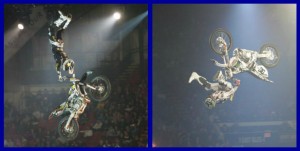 Let's be honest,  who wouldn't rather be doing awesome flips and crazy stunts anyway?  It would make that morning commute SO much more fun!
There is something for everyone in this show…it's not just cool stunts.  It tells a great story with some really rocking music.
Legendary Nuclear Cowboyz FMX tribes, the Soldiers of Havoc and the Metal Mulisha® return for a never-before-seen action-packed event that takes place in the war torn city of Los Angeles during the year 2150. The tale unfolds as the two tribes' survival is threatened and besieged by an evil force, The Tempest and her electrifying Cyborg Army. Catapulted into the heart pounding fury and frenzied excitement are the sizzling Nuclear Cowgirlz®, whose allegiance to their tribes only intensifies the Tempest's rage to destroy the Nuclear Cowboyz. The Soldiers of Havoc and the Metal Mulisha's battle is fought through fearless freestyle gravity defying stunts, combined with outrageous pyrotechnic and laser displays synchronized to heavy metal, rock alternative and electronic dubstep music.
Are you as excited as we are??  Want to know something even more awesome?  Family Friendly Cincinnati has two family 4-packs of tickets to give away to this amazing show!!
It's easy to enter and you get 3 chances to win!  Please leave a separate comment on THIS BLOG POST for each one you complete, along with a valid email address so that we can contact you if you win!  Please note if you already do #1 and #2, just leave a comment saying so for each one. This giveaway will close on Friday, January 20 at 3 p.m. so get to entering quick!  Here's how to do it:
Subscribe to our weekly eNewsletter  – Get Family Friendly Cincinnati right in your inbox! Top of right sidebar
Tell us-what is the most daring 'stunt' you've ever done?  Parachuting?  Parasailing? Jumped off a really big speedbump?  Let us know in a comment here and you'll be entered to win!
That's it!  Enter once or all three times for a chance to win!  Winners will be drawn on Friday, January 20 at 3 p.m.  Winners have 24 hours to respond or a new winner will be drawn.  Please make sure that when you comment you include a valid email address. Winners will also be posted to the FFC Facebook page.  ONLY entries placed here on this post will be considered eligible to win.  Good luck!
I am a Feld Family Ambassador, and in exchange for my time and efforts in attending shows and reporting my opinion within this blog, as well as keeping you advised of the latest discount offers, Feld Entertainment has provided me with complimentary tickets to Feld shows and opportunities to attend private Feld pre-Show events. That being said, the opinions expressed on this blog are always 100% mine.
When she isn't blogging for Family Friendly Cincinnati you can find Amy writing at her personal blog In A Galaxy Far Far Away.