You can't help but smile when you see the pictures of adorable Aubrey Rose.  Her beaming face and big grin captivates your eye and her story captures your heart.  Aubrey Rose lost her life just shy of her third birthday. She was born with two holes in her heart and had a condition known as "Scimitar Syndrome" which also affected her lungs.  Aubrey, her parents, and her doctors fought valiantly to get Aubrey better, but on November 10, 2000 she passed away.   Although Aubrey Rose's life was too short, her legacy continues to grow and thrive.  Her parents, Jerry & Nancy Hollenkamp (pictured on right), started the Aubrey Rose Foundation after her passing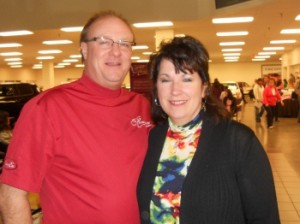 and this volunteer based organization raises money to help families with serious medical illnesses.
One of their major fundraisers is the American Girl Fashion Show that will be held April 27-29 at  the majestic Cincinnati Music Hall.  Music Hall will be filled with smiling girls all decked out in American Girl Doll fashions and their dolls will be dressed in matching outfits.  The audience will be filled with proud parents, friends and family all cheering the girls on.  This year both my girls got their very first American Girl dolls and my youngest was so excited to audition to be one of the models in the upcoming show.
Although, we won't find out if she's participating for another few weeks, I wanted to share with you on how you can have your daughter try out.  When I say try out, you really just have to sign them up online for a time slot so they can get their clothing measurements.  You'll bring a picture (school picture is fine) to the auditions as well. The models (ages 4-12 years) selected are picked based on the sizes of clothing sent for the show so just explain that to your girls if they decide to attend.  Lots of girls at our audition brought along their American Girl dolls but having a doll is not a requirement for being in the show.  It was also nice to meet the Hollenkamp's and learn more about the Aubrey Rose Foundation and the amazing things they do for families during a stressful medical time.
Upcoming Auditions (from American Girl Fashion Show website):  There is no charge to audition.
Beechmont Toyota, 8667 Beechmont Avenue  -Saturday, January 14, 2012 – 9:00 am-11:30 am    
Dry Ridge Toyota, 18 Taft Highway, Dry Ridge, KY – Sunday, January 15, 2012 – 1:00 pm-2:50 pm  
Kerry Toyota, I-75 Exit 181, Florence, KY – Saturday, January 21, 2012 – 1:00 pm-3:30 pm 
Joseph Toyota, 9101 Colerain Avenue –   Sunday, January 22, 20121:00 pm-3:30 pm    
If your daughter is selected as a model, you will pay a $100 donation fee by Feb. 3 (girls are also encouraged to get sponsors to help cover the cost).  The donation fee also covers the cost of a fitting and professional photo shoot with John Casablanca's Modeling and Career Agency the weekend of March 16-18.  They will also need to be available for a dress rehearsal on Sunday, April 15 at Music Hall. The models will also have free admission to their show since they will be part of the show.  Any parents, siblings or additional friends must purchase their own tickets to attend the show ($35/person).  Food and beverages are included in your ticket price and the show is around 2 hours in length with an intermission and all the younger guests will get a souvenir gift bag.  The proceeds benefit the Aubrey Rose Foundation which in turn helps families undergoing life-threatening illnesses.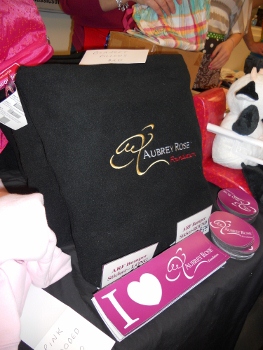 If you are unable to attend the fashion show, you can help the Aubrey Rose Foundation in other ways.  They have other yearly fundraisers: the Aubrey Open golf outing in May, a family-friendly "Party at the Paddock", a fireworks spectacular over Labor Day weekend, and "Let's Dance for the Heart of It" in November. Plus they also have two businesses that directly support the Aubrey Rose Foundations. The first is "Writely Sew"which is an embroidery and custom embellishments store and the other is Aubrey Rose Apparel.
"The most awe-inspiring and rewarding thing about this business is that all of the proceeds from Writely Sew and Aubrey Rose Apparel go directly into the Aubrey Rose Foundation so that we can continue to help many more families and children with life-threatening medical conditions." – Writely Sew
If you'd like to learn more about the Aubrey Rose Foundations, please visit www.AubreyRose.org.  You can also find them on Facebook. For more information on the America Girl Fashion Show, please click here or visit their Facebook fan page.
For a listing of other worthy causes, visit my personal website, MasonMetu (from me to you) and check out our "worthy causes" page.