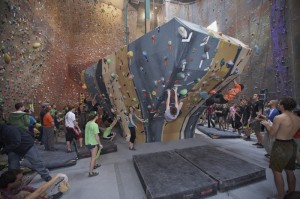 As we found out on Monday, winter is here. When it's too cold to get outside with your kids and they're starting to climb the walls and wearing your patience, it's good to have something fun and exerting for them to do ready to be pulled out of your back pocket. We lucked out this fall by finding RockQuest in Sharonville.
We first went to RockQuest for a Cub Scout outing. We took our daughter along and we were so impressed with how well run this place was, that we signed up our kids for a winter break camp.
Ok, let's back-up to our first visit. Our kids each had harnesses which were checked carefully by their belayer. (A belayer is the person who is anchored to the floor – the climber is attached to the belayer's rope and they insure that the climber doesn't fall should they lose their footing.) Once you have your belayer, the two of you choose which portion of the numerous climbing walls you're going to actually climb. RockQuest has both walls to climb and a big "rock" in the center of the climbing room with various angles for the feeling of hanging onto a cliff. You don't need a belay to climb the "rock" that has cushions all of the way around it and you can climb this at your own risk–you can climb to the top of this where there is a viewing and seating area which the kids found a great deal of fun.
You can either pay extra and use a belayer on staff at RockQuest or you can bring along your own belay. If they have been certified somewhere else, have them call RockQuest prior to heading out to see what they need to bring along.  RockQuest also provides a basic belay and safety course.
The nice thing about rock climbing is you can go at your own pace–and you can do it over and over and set yourself up with challenges and goals. My nine year old daughter was much more enthused about climbing than my seven year old son, and she set up little goals during her two hours of climbing and wouldn't come down until she reached them. It was super neat to see her confidence in herself and her ability increase.
As we were walking out, a flier announcing a Winter Break camp caught our daughter's attention and she begged us to let her go. I thought it would be a fun thing for them to do–get us all out of each other's hair for awhile. The camp lasted three hours and cost $25. I forced my seven year old son to attend (I know, mean mean Mommy!). I was concerned when I dropped them off because he can be a bit of a pill if he's unhappy, but my worries were not warranted. When I picked them up at noon, both of my kids begged me to let them go back to camp at RockQuest another time. They had an absolute blast. Not only did they climb, but they got to do some pretty clever crafts and they got a snack. Does life get much better than that?
If you've never taken your kids climbing, you might want to sign up for RockQuest's "Taste of Climbing". For $10, you get to climb two times with all of the necessary equipment and staff assistance. This is available on weekends and it's suggested you call in advance for reservations at (513) 733-0123.
RockQuest also offers summer camps (we'll include this on our big list coming out in a few months),  party packages for birthdays, scouting events, team building and even over night events. All of the details are on their website.
I found the staff informative, courteous and safety conscious on both of my visits. The restrooms were clean and the climbing area was nice. I know we'll be back to visit RockQuest many more times. If you see my climbing monkey's, be sure to say "Hi!".
RockQuest is located at 3475 East Kemper Rd. Cincinnati, OH 45241
Photo credit for top photo and slideshow photo belongs to RockQuest.
You can find out more about me and my musings on my personal blog: Little World After All.