Now that all of the holiday hoopla is done, you might be wondering if there is anything for the kids to do to keep the winter doldrums at bay. Of course there is!  One place that really engages your child's creativity is Paint by the Glass, an art studio in West Chester, Ohio where kids can have fun creating their own art.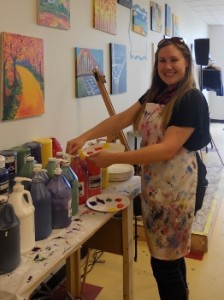 Each Canvas and Cocoa for Kids' class is taught by a local artist.  We've had the pleasure of working with artist, Ashley Johnston, on two occasions and she is wonderful with the kids.  Canvas and Cocoa usually takes place on a Saturday and kids (ages 5 and up) can be dropped off or you can stick around to watch your little artist blossom.  The kids will paint on a pre-sketched 16×20 canvas while the in house artist instructs them step by step.  It's wonderful to see how creative kids can be and even though they are all painting the same image, every child's rendition is different.  Plus they get to take home their work of art and display them at home or give them to someone special.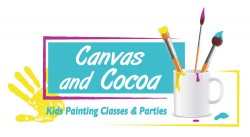 Canvas and Cocoa is only $17.50/child and it includes a snack and a drink.  Even thought they allot a 2 hour time slot for the class, kids tend to be a bit faster than adults so they may get done a bit quicker than you think.  So, if you decide to head out for a cup of coffee just keep that in mind. This month, there will be two opportunities to sign up for Canvas and Cocoa:


January 21 – 2pm – "Baby Penguins"
To sign up, just visit the Paint by the Glass website and you can register on line.  You will also be able to see how many seats are still available in a class in case you want to ask a friend. In addition to Canvas and Cocoa for Kids, they also offer classes for adults. Get some girlfriends together for a fun night out and have fun creating art while enjoying drinks and appetizers with friends (adult classes are $25-$35).  This is also a great place to host your child's birthday party.  My daughter got to attend a birthday party and she loved it.
Paint by the Glass
8179 Princeton-Glendale Rd.
Suite G.
West Chester, OH 45069 Call: (513) 874-1101
Disclaimer: Paint by the Glass is one of MasonMetu's advertisers.  We hope you'll get a chance to stop by and visit this wonderful studio soon.  If you'd like more suggestions on places to get creative with the family, visit MasonMetu's enrichment page.