Are you and the kids a little stir crazy?
We've put together a sampling of fun places to beat the winter/rainy-day blues.  Make sure you check out the details of each place on their website before heading out.  Have fun!
Greater Cincinnati / Northern Kentucky Kid-Friendly Indoor Activities
The Arts
Do your kids like the arts?  Would you like them to exercise their creativity and make something cool?  Sign up for a class at one of the many art studios in town and then head out after for a kid friendly meal at Skyline or Frisch's.
Brazee Street Studios  Read our review
Baker Hunt Art and Cultural Center  Read our review
Unmuseum at the Contemporary Arts Center
(this is a museum that offers hands on exhibits as well as art sessions for families to do together)
Sports
Do your kids need to burn off some extra energy?  Try a more physical activity like laser tag or bowling.
Lazer Kraze in Erlanger, Mason or Columbus.
Scallywagtag with two locations in Cincinnati
SuperBowl in Erlanger, KY
Jump Zone in Florence, KY.   Read our review
Jimmie's Rollerdrome in Elsmere, Kentucky
The Skatin' Place in Cincinnati
Castle Skateland  Read our review
Ollie's Skatepark in Florence, KY
Backstop Sports batting cages in Cincinnati on Old State Route 74
Family Day
Do you need something for kids of all ages…including yourself?  Would you like to have a day-long activity but not drive too far and stay in one place?  Head to a mall for the day.  Check out the Florence Mall  in Northern Kentucky to do some shopping, have lunch in the food court, ride the double-decker carousel, play a game of Glow Golf and let the kids play in the Woolly Mammoth play area.  Then go across the parking lot to catch a movie with the family.
If you are looking for something for younger kids and you would like to relax a little, try Totter's Otterville (Read our review)in Latonia, Kentucky inside Johnny's Toy Store.  The kids can play in the ball pit, pretend to be a florist or cashier in make believe land, build a house from giant foam bricks or meet Totter the Otter while you chat with a friend or put up your feet watching the kids play.  When everyone is hungry, enjoy a pizza and salad at the cafe.
Do your kids love trains?  Kids of all ages will enjoy Entertrainment Junction (Read our review)and the world's largest indoor model train display in West Chester, Ohio.  You can also check out the A-Maze-N funhouse, touted as the greatest funhouse on Earth.
If you'd like to make a day of fun in Newport, Kentucky, go to Newport on the Levee and check out the Newport Aquarium.  After the aquarium, eat at Tom + Chee  and then catch a movie at AMC theatres.  Go on a Tuesday and kids eat free at Tom and Chee (with the purchase of any combo meal–see website for details)!
Still enjoying the holidays?  Whether you go during the break or any other time of the year, the Krohn Conservatory is a special experience for both kids and adults.  You can find a cocoa bean plant and tell your kids that's how their delicious chocolate Santa started or visit the annual Holiday Show "Trains, Trestles and Traditions".   Walk through the desert room and you may see a scurrying salamander or spot the aloe plant.
Museums
Would you like to browse through a museum with the kids and have everyone learn something new?  Even ifregular museum art is not up your alley, you can be sure to find a museum to peak your interest from the many offerings in our area.
The Fire Museum of Greater Cincinnati Cincinnati Art Museum
Behringer Crawford Museum   Read our review
Cincinnati Museum Center  (for three museums in one, including the fantastic Children's Museum)
Libraries and Bookstores
How about a story time or craft?  Go to a library or bookstore.  You can listen to a story with the kids, maybe make a craft and then check out the book collection!  The libraries offer lots of kids programs and even movie times.  Check each website for details.
Joseph-Beth Booksellers in Hyde Park or Crestview Hills  Read our review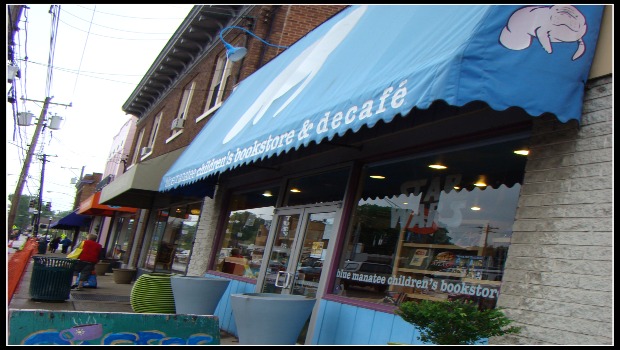 Blue Manatee Children's Bookstore and Decafe   Read our review
Book Bums in West Chester   Read our review
Kenton County Public Library Check the library calendar for children's movie's offered every day during the holiday break, activities on the weekend and story times starting after the break.
Campbell County Public Library
The Public Library of Cincinnati and Hamilton County
Waterparks 
Do you miss summer already?  Want to go for a swim or try out a waterslide?  We have a couple of great indoor water parks right here in town!
We hope you can find a fun activity or place to visit with your family this winter.  No matter where you go, or what you do, make sure you take a moment and enjoy your family.  Watch your children's faces as they learn how to skate or discover a new book.  See the excitement or curiosity in their eyes as they try a new craft.  Or enjoy their smiles as they chow down on a cheesy grilled cheese for lunch!
Read Michelle's blog I'm Living the Good Life to see if she really is!