We are so lucky to live where we do.  Greater Cincinnati has so many opportunities for our kids to experience the arts and many of these events are free.  One place that I love visiting with my girls is the Cincinnati Art Museum.  The Cincinnati Art Museum is always free (parking is $4 for non-members) but on the first Saturday of the month they put together a day packed full of art activities, special guests, scavenger hunts and usually a fun program to see during Family First Saturdays.  We've visited many times and each event has had a different theme and activities for the kids.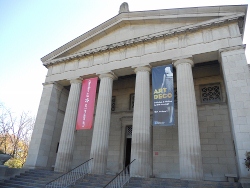 Our most recent visit in November revolved around "Blooming Art".  We headed to the lower level of the museum and entered Artworld where the girls made floral arrangements on paper.  They had plenty of supplies on hand to keep creative minds busy.  Following this, we then got to attend a free workshop with the folks from Happen, Inc.  They were great and the kids enjoyed learning about different art styles and then creating their own 3 dimensional bouquet of flowers. Supplies were included and they really enjoyed it.
The next Family First Saturday is Dec. 3 from 1-4pm.  The CAM website sums it up best:
"Winter Wonders – Come enjoy all things winter! Talk to local artists about their wintery creations while enjoying performances from Kinderballet and holiday carols sung by Xavier University's male a cappella group, Harmon-X. Go on an imaginary sleigh ride through the museum to complete our scavenger hunt and make a pit stop in Artworld for hands-on art."
If you decided to attend, I will caution you that parking can be a bit of a problem.  You may want to either coordinate getting dropped off at the event or arriving on the earlier side so you can get a parking spot.  On our last visit, the CAM did provide free valet parking if you needed it.  There is a small lot outside of the CAM grounds that has parking but this usually fills up pretty quickly.  Even with our initial difficulty finding a parking spot, I would still return since Family First Saturday is so much fun for kids.  Plus I really applaud the Cincinnati Art Museum for being so welcoming to families.  If we do venture out from the lower level where many of the kid friendly activities are and visit some of the permanent exhibits on display,  I always go over the rules with my girls so that  are reminded to talk quietly, keep their hands off any of the art, and to stay close to Mom or Dad.   After Winter Wonder, they will have Multiple Masterpieces on Jan. 7, 2012.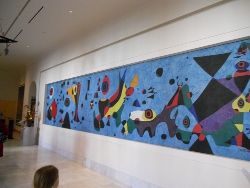 If you can't make Family First Saturday, the CAM has plenty of other opportunities for families. The fun and entertaining  Madcap Puppets put on some great shows throughout the year (tickets are free for members and $8/non-members).   Artworld is open every Saturday & Sunday from 11am-5pm.  Here kids can get creative and make their own special art.  On select Wednesdays, they have a great program for families with preschoolers called Wee Wednesdays.   Here docents are placed throughout the museum and the kids can enjoy an interactive story time (adults must stay with the kids).  There is no charge for this and reservations are not required. On the third weekend of the month, Family ARTventures Art Stop is going on throughout the museum.  There will be "art carts" set up with family friendly activities to do.  This is also free and will take place from 1-4pm.  Click here to check out their upcoming calendar of events so you can plan your next trip to the Cincinnati Art Museum.
The Cincinnati Art Museum is also home to the Terrace Cafe.  The food is delicious and they even have a children's menu ($4-$4.75).  All kids meals come with applesauce and a choice of chips or fresh fruit.  I'd recommend making reservations since it is a popular dining spot (open 11am-3pm, Tuesday through Sunday).  Plus if you spend $10 in the cafe, your parking will be free.