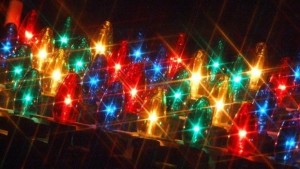 The holidays are finally here and it's time to get out and make memories, perhaps even start new traditions! We've scoured the town to bring you some of our top picks when it comes to holiday fun. As always, if you notice we missed a great event, please share it in the comments!
We wish you and yours a very merry holiday season!
WHITE CHRISTMAS PERFORMANCE SUPPORTS REGIONAL YOUTH LEADERSHIP
When: December 20th at 7:30; "White Christmas" at the Covedale Center for the Performing Arts, benefiting Regional Youth Leadership (RYL), a nonprofit youth development program that serves high school juniors from Northern Kentucky and Cincinnati area schools.  Tickets for this holiday favorite are $25.   A $40 VIP ticket includes premium seating, drinks and appetizers.  Order your tickets at www.nkychamber.com/whitechristmas, or by phone at 859-578-6398, or by emailing Joni Huffmyer at [email protected].  Presenting sponsor is Turner Construction Company.  The Covedale Center is located at 4990 Glenway Ave., Cincinnati.
ANNUAL LEBANON CARRIAGE PARADE & CHRISTMAS FESTIVAL (Free)
When: December 3; Christmas Festival Time: 10am-8pm and Horse-Drawn Carriage Parades:  1pm and 7pm candlelit parade); Christmas carolers, traveling bell choir, storytelling, Paso Fino Horse Demonstrations, musical entertainment, train ride to the North Pole on the North Pole Express visits with Santa and Mrs. Claus, street characters, and extended business hours for our 80-plus antique and specialty stores.
A CHRISTMAS CAROL at PLAYHOUSE IN THE PARK ($25-$62)
When: Dec. 1 – 30;  Dates/times vary. Open to adults and children ages 5 and up; the Playhouse's version of A Christmas Carol combines faithful storytelling with spellbinding stage magic to bring to life its familiar story of a sinner given one last chance at redemption by four persuasive ghosts. Details
CCM CHORAL SERIES – FEAST OF CAROLS ($12 general admission, $5 non-UC students, UC students FREE)
When: Saturday, December 3; Kick off the December Holiday Season with festive choral favorites performed by CCM's fabulous choirs and outstanding guest choirs. Takes place at UC's Corbett Auditorium. Details.
BEHRINGER-CRAWFORDS HOLIDAY TRAIN DISPLAY ($4-$7)
When: Nov. 12 – Jan. 16 ; more than 250 feet of themed train track displays with 25 interactive accessories. Entering it's 20th year! Details
ANNUAL HOLIDAY SHOW AT KROHN CONSERVATORY ($10 unlimited admission)
When: Nov. 11 – Jan. 1; 10 am-5 pm, Wednesdays 10 am-7:30 pm; Themed, "Trains, Trestles and Traditions" visitors will enjoy a a whimsical custom-constructed train display that will loop through the Krohn and will include replicas of many beloved Cincinnati landmarks. Enjoy light displays, kids crafts and more. Details
CINCINNATI MUSEUM CENTER'S HOLIDAY JUNCTION FEATURING THE DUKE ENERGY HOLIDAY TRAINS (included in admission)
When: Nov. 5—Jan. 1, 2012 (closed December 25); Trains. Toys. Traditions! Make memories your family can build upon for generations, enjoy the Duke Energy Holiday Trains, visits with Santa and lots more. Details
US BANK ICE RINK AT FOUNTAIN SQUARE ($3 + $3 for skates)
When: Nov. 23–Feb. 19, 2012; Enjoy ice skating downtown, hot cocoa and skating with Santa on the weekends.  Details
ENSEMBLE THEATRE'S SNOW WHITE ($16 – $42)
When: Nov. 30-Dec. 31; Exciting, all-new world premiere of the musical Snow White, based on the classic fairytale, that reminds us the true reflection of beauty and happiness can only be found within. Suitable for all audiences.  Details
CHRISTMAS IN THE VILLAGE  (Free)
When: December 2 – 4; A traditional Dickens holiday in Waynesville featuring horse drawn carriages, carolers and live nativity scenes. Festivities include evening luminary display; Dickens characters, community Christmas tree and Tuba Christmas. Details
SANTA'S WATER WONDERLAND AT NEWPORT AQUARIUM (Included in general admission)
When: Nov. 25 – Dec. 31;  A fun and unique holiday event featuring daily underwater shows by Scuba Santa. Outside of the tank, Scuba Santa is your host for fun games and crafts for the young ones. Details
SANTA AT MACY'S FOUNTAIN PLACE (Free)
When: Fridays and Saturdays, Nov. 25—Dec. 23; 11am.—8pm and Sundays, November 27—December 18; noon—6pm, Monday—Thursday, December 19—22 and December 24; noon—6pm; Bring your own camera for photos with downtown's only Santa in a festive North Pole setting. Details
DOWNTOWN DAZZLE ON FOUNTAIN SQUARE (Free)
SNOWLAND AT GREAT WOLF LODGE  (Price varies depending on package)
When: Dec 1-31; Annual holiday celebration at Great Wolf Lodge offering thousands of  sparkling holiday lights, bright stars, glowing icebergs, cascading snow, decorations, trees and wreaths that create the perfect winter wonderland. Kids can write letters to Santa or take arts and crafts classes at North Pole University, they can also enjoy their winter break with 84 degree water inside the Lodge's mammoth indoor waterpark.
NORTH POLE EXPRESS AT LEBANON MASON MONROE RAILROAD ($8.50 – $20.50)
When: Nov. 26 – Dec. 18; Enjoy riding a historic train through the countryside as you head to see Santa and Mrs. Claus at the North Pole. Kids will enjoy plenty of fun activities at Santa's special workshop including getting their picture taken with Santa, hot cocoa and cookies too. Details
SORRY – EVENT IS SOLD OUT!

FAMILY FRIENDLY CINCINNATI'S BREAKFAST WITH SANTA
($5 + eventbrite chrg)

SPIRIT OF CHRISTMAS NATIVITY EXHIBITS & MUSIC (Free)
When: Dec. 2, 3, 4; Friday 7 Saturday 2-8pm, Sunday noon – 7pm. See more than 1,200 wise men and experience how artisans from more than 40 countries envision the Baby Jesus.  Enjoy a display of more than 425 miniature Nativity displays at The Church of Jesus Christ of Latter-day Saints in Liberty Township. Details
 HOLLIDAY FOLLIES AT THE CHILDREN'S THEATRE ($7-$20)
When: Dec. 2 – 11; Weekends.  This year Holiday Follies returns, but it's all about celebrating the season in our own hometown –a tribute to Cincinnati.

 

Details
 ANTIQUE CHRISTMAS AT THE TAFT MUSEUM ($4-10)
When: Thru Jan. 29, 2012. 11am – 5pm; View collections of breathtaking vintage ornaments, explore intricate Christmas village, a display of early wooden toys, antique paper dolls and more. Details
HOLIDAY LIGHTS ON THE HILL
($2.50 – $7.50)
When: Nov. 18 – Jan 1; 6-9pm Sunday through Thursday and 6-10pm Friday & Saturday. Was named Best Light Show in 2006 by Cincinnati Magazine.
LIGHT UP MIDDLETOWN (donation requested)
When: Nov. 25 – Dec. 31.;  6-10pm; Drive thru light display that also includes several special events including a Hot Air Balloon Glow and weekend visits from Santa and Mrs. Claus.
HOLIDAY IN LIGHTS AT SHARON WOODS ($12 per car)
When: Nov. 18 – Dec. 31;  Sunday – Thursday, 6-9pm and Friday & Saturday 6-10pm. Drive thru light display that also includes access to Santaland (Dicken's Carolers, Elf Show, Santa and more).
LIGHT UP THE LEVEE HOLIDAY LIGHTS SHOW (Free)
When: Nov. 22 – Jan. 2; 18 shows will take place daily beginning at 6:10 p.m., every 20 minutes with the last show at 11:50 p.m. Features more than one million lights synchronized to holiday music, a 30-foot tall Christmas tree with a six-foot tall topper of the Star of Bethlehem, ten- and 20-foot spiral trees, five-foot snowflakes, wreaths and more.
NIEDERMAN FAMILY FARM CHRISTMAS WALK (Free)
When: Nov. 25 – Dec. 31; 5:30pm-10pm daily Niederman Christmas Farm is a walk-though Christmas display featuring tens of thousands of lights, Christmas music, Biblical scenes, live animals and more.
PNC FESTIVAL OF LIGHTS ( $10 – $14)
When: Nov. 25 – Jan. 1,  5pm – 9pm; Features almost two million LED lights spread through out the Zoo, themed areas like Fairyland and Candy Cane Forest.
THE CHRISTMAS RANCH ($12 per car)
When: Nov. 25 – Jan. 1, Sun – Thurs, 6pm – 10pm and Friday, Saturday and Holidays, 6pm – 10:30pm. Features more than 350,000 lights, synchronized to music spread out over five acres. Fun include a drive thru display, entertainment, hot cocoa, train & wagon rides and more.
Community Events:
Please check back often as we will continue to update this post throughout the holiday season. If you have an event you'd like to see included, please add it to the comments below!
Have a great holiday!