Exploring Ludlow Avenue
Whew, for the last month my girls and I have made the trek to Clifton (from Mason) every Monday & Wednesday.  We're  a bit saddened today.  They just finished their first theatrical production of Snow White with the Clifton Performance Theatre and will miss seeing their cast mates & learning all the ins and outs of being part of a live theatre show. They will also miss their wonderful teacher, Miss M.K. Cameron, who not only directed the children but also wrote the script to CPT's take on Snow White.  This past weekend, the all children cast put on two live performances to showcase all their hard work.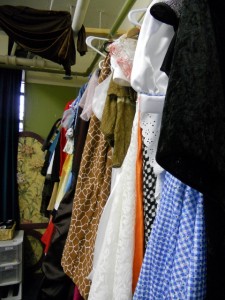 It was amazing to see these kids put on a show complete with wardrobe changes, set changes, a challenging script with some intricate dialogue, & musical compilations.  Even though we had quite a drive every week, my girls never complained about going to "play practice" and on the days that we were home, they would ask when we were going back.  They LOVED it.  If anyone wants to see if their kids would enjoy being in a live show, then CPT is the perfect place to get them started.  They warmly welcome novices through more experienced performers.  They give everyone a chance to shine and for those who may not be quite ready for the spotlight, they will structure a part to fit their needs.   CPT is located in the bottom of an old apartment building in an intimate space.  Even though it is a small theatre it is perfect for kids to practice and learn a new craft.  CPT offers four week performance workshops throughout the year ($150/child).  They even host birthday parties, kids' night outs and have summer camps.
Now, while my girls were learning how to be proper thespians, I was eating  navigating my way through Ludlow Avenue. Lucky for me, my Mom lives close by so she would meet me in Clifton and we'd have fun checking out some of the local dining establishments as well as visiting some of the shops along the way. I've separated our adventures into two categories (sites & food). I compiled some of the sites we saw into this video too:
Sites: I loved walking down Ludlow Avenue and seeing the charm of the street.  The buildings all have a story to tell. There is always something to see too – you might find local musicians singing on the streets or people offering a friendly wave.

Ace Hardware Store Clifton – Who knew there was a charming Ace Hardware store in the heart of Clifton?  It's located in the historic Ludlow Garage.  We stopped in one night just to check it out.  It reminded me of times gone by when you actually could get one on one customer service.  The employees were so friendly and ready to help you find what you needed.  Plus I loved that you could also pick up a loaf of fresh baked Shadeau breads.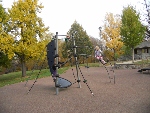 Burnet Woods Park– Before the time change, we visited Burnet park and the girls had fun on the playground even thought I'd caution against spinning right before you are supposed to practice your lines.  Part of the Cincinnati Park District, Burnet Woods Park has some gorgeous green space and somewhere within the park is the Wolff planetarium that has showings throughout the year.  It is located next to the Trailside Nature Center.
The Clifton Branch of the Public Library of Cincinnati– Occasionally, we would arrive in Clifton before play practice started so I would take my girls to the Clifton branch library.  This is a tiny branch but perfect for us to spend 30 minutes looking at books.  We each got our own library cards which can be used at any of the branches. They also have a nice assortment of DVD's you can check out.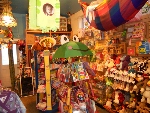 Shops – Clifton has some unique boutique shops. Your kids will love the small toy store, Toko Kidz and right next store is the soothing Toko Baru. Artist Beads is a great place to stop by if you are looking to make a beautiful bracelet or necklace. If you just walk along Ludlow, you'll find a few other shops with some unique items to spark your interest.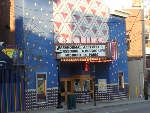 The Esquire Theatre– Although I didn't have a chance to see a movie due to only have a 90 minute window, you can't visit Ludlow Ave. without mentioning the Esquire movie theater.  I've seen a few movies here and I love the old style charm of the theater and the more intimate movie space.  Visit on a Tuesday for Bargain Tuesday and tickets are only $6 for any movie that day.
Food: There is plenty to sample on Ludlow, you can get Italian, Mexican, Chinese, Mediterranean, Indian, & American fare on one street.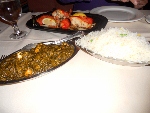 Ambar India – One night, I used my Entertainment Book for a discounted meal at Ambar India.  My Mom met me for dinner and we had fun selecting our cuisine.  I opted for the Chicken Tikki Saag ("boneless marinated chicken cooked with spinach, cream and tomato sauce" and served with a side of rice) and my Mom got the Chicken Tandorri ("half chicken marinated in yogurt, mild spices and herbs"). We also shared an order of warm nan bread.  The meals are perfect for sharing since they come out in small serving dishes instead of all mashed together on your plate.  We enjoyed both our meals but the Chicken Tikki Saag was a definite hit plus we had plenty left over to enjoy the next day. After using our $10 off Entertainment book discount, our meal was just under $20.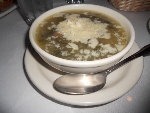 Biagio's Bistro – If you love Italian food, then Biagio's Bistro is the place for you.  As soon as you walk in, the wonderful aromas of garlic fill your senses and you are greeted with a friendly hello from Mr. Biaggio as he mans his made to order pasta station.  On our first visit, we both opted to get soup ($3.75/bowl of your choice of Italian Wedding Soup, Tomato Basil or the soup of the day) and a side salad ($3.75/side or $6.50/entree).  Of course, after walking by their dessert case, we had to return on another visit for a piece of made from scratch Banana Cream Pie ($5.50).  It was so good plus it was covered with the most delicious chocolate ganache (I think I better hop back in the car and get back to Biagio's soon).  On my third visit, I had Bruschetta ($6.50)  and another bowl of  delicious Italian Wedding Soup. Biagio's also offers delicious pasta entrees ($13.50-$19.50) and sandwiches ($8.50).  Click here for the full menu.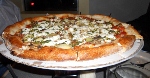 Dewey's Pizza – Now, I really should have visited Dewey's with my girls, but since they had their dress rehearsal on the night of our Dewey stop, I ended up having dinner with my parents, my brother and his girlfriend instead.  Plus that allowed me to enjoy something other than a cheese pizza.  Dewey's is just good – they make delicious fresh salads and their pizzas have a great crust, a bit of a spicier sauce, and fresh toppings. We got two large salads to share ($7.95/salad) and a large Edgar Allen Poe ($20.95).  The Edgar is so good – it is topped with mushrooms, roasted garlic, Kalamata olives, fresh tomatoes and goat cheese.  This was plenty of food for six adults and we even had a slice of pie left over.
Graeter's Ice Cream – I probably don't have to even comment here but Graeter's is just yummilicious.  Even though my girls go with their standbys, chocolate for K and vanilla with sprinkles for S, you can't beat the creamy goodness of a Graeter's ice cream cone.  We visited before Halloween so they were festively decorated for the season.  They also have some wonderful bakery items to satisfy your sweet tooth.  We also visited today and I noticed a little girl with 3 baby size cones.  They have a great deal going on – get 3 of these tiny cones (you pick the flavors) for only $3.95.  It's a great way to sample some of their unique flavors like pumpkin or cinnamon.
Mediterranean Foods – This is a small restaurant with a small menu but I actually like a smaller more specialized menu since they really perfect the foods they serve.  Here you can get some great takeout or sit for a bite to eat.  You can enjoy Mediterranean wraps, Greek Salads, hummus and more.  With prices ranging from $5.50 to $7.95, it is also budget friendly. I really liked my Chicken Shawarma ($5.50) but I wish it would have had just a bit more of their delicious tzatziki sauce with it.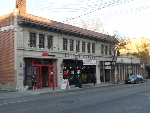 Olive's at the Ludlow Garage – I stopped by Olive's after walking by and seeing a sign for a $1 grilled cheese on Monday night.  I stopped in, got a seat at a high top in the bar and ordered a bowl of soup and the $1 grilled cheese.  The soup was flavorful and hot and the grilled cheese was a pretty standard grilled cheese but since it was only $1, I can't complain. I did notice that they offer kids' meals ($4.95  that includes a choice of entree, a side and a drink for ages 12 and under) and they serve brunch on Saturday & Sunday from 9am-2pm.  Although I only made it to the bar area, they also have seating in their restaurant and families are welcomed.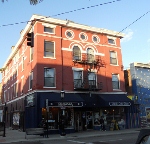 Sitwell's Coffee House – If you visit Clifton, you have to stop by Sitwell's – filled with nostalgic charm, mismatched tables and chairs and plenty of interesting wall displays, Sitwells is the perfect place to sit back, read the paper, and enjoy a cup-o-joe.  They also have a full bar so you can have a beer or a cocktail too.  Plus they are open for breakfast, lunch and dinner with a menu sure to please many. They also have entertainment lined up for you.  Check out their calendar of events for more info.  Oh, and they have free wifi!
I hope you'll get a chance to visit the heart of Clifton one day and take a stroll along Ludlow Avenue.