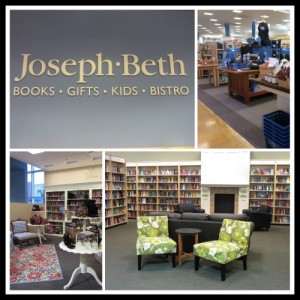 There's a new bookstore in Northern Kentucky, and I'm as happy as a clam about their arrival!  While Joseph-Beth Booksellers has been in our area for years, with a store in Cincinnati, they are now opening a location that is closer to home for me, in the Crestview Hills Town Center (located where Borders used to be).  As a matter of fact, it's just a hop skip and a jump away from Sam's preschool, so I see myself frequenting this shop quite often.   If you are familiar with Joseph-Beth Booksellers, you know how cool of a bookstore they are.  It's not just books at this store, they have games, candles, gift items, handcrafted items, toys, and much much more.  And for the Vera Bradley fans out there, they have an entire section devoted to these lovely handbags & accessories.  There is most certainly something for everyone at Joseph-Beth.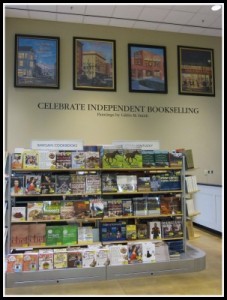 One of my favorite things about this new location was the emphasis on Kentucky.  They had a wide selection of books about Kentucky, books written by Kentucky authors & many books about our region specifically.  I picked up quite a few Christmas gifts in the "Kentucky section" this morning.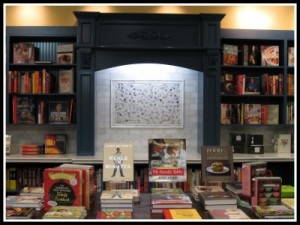 My other favorite section in the store was the cookbook area…so many titles!  I saw several books I wanted to add to my Christmas wishlist while perusing the shelves.  I loved the look of this area as well, the design made you feel like you were in someone's kitchen.   While many things look familiar in this new bookstore (they used the bookshelves that were there when the store was Borders), you will find many new touches now.  The store is open & filled with light.  There is a great wide pathway through the store, making it easy to navigate.  But it's the charming touches that make Joseph-Beth seem more "homey" than your usual big bookstores, like the living room set-up in the middle of the store where you can sit & relax with a good book.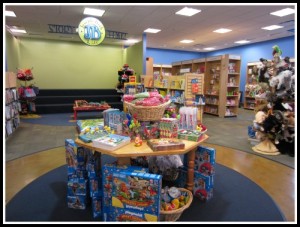 What I love best about the Cincinnati location of Joseph-Beth is their children's section, so I was quite curious to see what the new store's children's area would be like.  I was not dissapointed!  They have train tables to entertain the munchkins, and a great seating area for storytimes.  And along with having a huge selection of children's books, they have games, toys, puzzles &  activity books.  It's a great place to find gifts for the kids!  My kids always love to explore the Playmobil toys & Science experiment sets & books.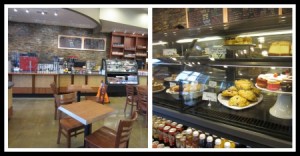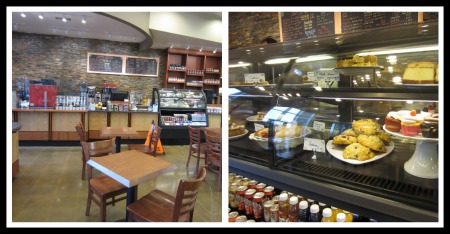 I spent a long while exploring the new store this morning, and I loved it so much I feel like I could even go back for more tomorrow!  I've already made plans with a friend to meet for lunch at the Bronte' Bistro.  Phyllis M. wrote a post for Family Friendly Cincinnati about the Bronte' Bistro at the Cincinnati location, and I'm eager to try the sandwiches at this new location!  It's a cafe, and has a smaller menu than the Cincinnati location, but it all sounded quite delicious.  So stop by, grab a cup of coffee and peruse the books, I'm sure you'll find something of interest!
I want to give a shout out to the staff at Joseph-Beth Booksellers.  They were all working hard to organize things and get the store ready, but that did not stop them from being attentive & helpful with the customers.  I had several people chat with me and help me find books.  They were all so friendly with the customers and enthusiastic about the opening of the store.  There was excitement in the air at this bookstore!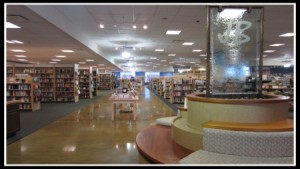 While Joseph-Beth Booksellers officially opened it's doors on Monday, November 14th their Grand Opening Celebrations at the Crestview Hills Town Center will take place on Saturday, November 19th.  Here are some of the fun things they have planned for the celebration:  a proclamation by Mayor Meier at 9:00 A.M., ribbon cutting ceremony with the Northern Kentucky Chamber of Commerce, Prize giveaways, free coffee all day, live music with the Ron Purdon, local artisans, face painting, balloon artists, free dessert for kids, meet the Berenstain Bears, Madeline and Geronimo Stilton.
See you there!
Wander on over to www.thelittlethingsjournal.blogspot.com to see what Katie and her little things are up to this week!