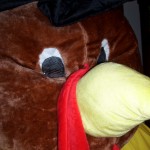 There's a new turkey in town. Gobble Gobble Ministry (GGM) has been working quietly in the background to help feed kids and families in need right here in Cincinnati. The main focus of Gobble Gobble is to support food pantries throughout the tristate. In addition, they support the Kids' Café network of cafeterias that serve free meals to kids in need. This Fall, they've decided to take their turkey talking and giving to a whole new level.
With Thanksgiving fast approaching, GGM wants to help provide families with Thanksgiving meals. In order to help make this happen, they're asking for help from the community.  GGM has planned a "fun raiser" called Thanks and Giving Party Palooza on Friday, November 18 from 3pm – 6pm. This is a kid focused event so there will be  crafts, games, music, and treats from Gobble Gobble. Wacky and cool door prizes and a photo op with a big turkey are also on the agenda.
Of course, the main purpose for the party is to collect food for families in need. GGM is asking you bring what you can to party to help out. If you'd like to help provide a meal to one family this Thanksgiving here's the list of what you would bring:
1 large box of instant mashed potatoes
1 box of stuffing
1 large can of yams
4 cans of vegetables (2 green bean, 2 corn)
1 box of cornbread mix
1 can of cranberry sauce
1 packet of gravy mix
1 box of brownie mix
In addition, if you donate $15.00 to GGM that will add a turkey to the box. GGM understand providing all of the above may be difficult for you, so donate what you can: every bit does help.
This is a great way to get your kids involved in giving back – head out to the grocery store with them before the event and have them help put the items you're planning on giving in the cart.
The Party Palooza is being held at SonRise Church on Wooster Pike (between Mariemont and Terrace Park) – 8136 Wooster Pike. GGM is asking you call to let them know your attending so they will be sure to have enough treats for all attendees.  To RSVP, call the SonRise Church Office at 576-6000.
If you can't make the party put still want to be a part of this important work, give Gobble Gobble Ministry a call at 576-6000. What they like to say is, "We're just a bunch of Turkeys trying to help out."