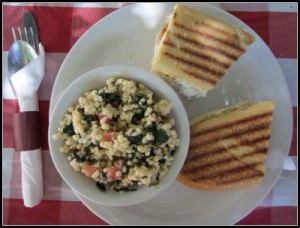 Are you looking for a new restaurant to try for breakfast, lunch or dinner?  Or maybe even just for dessert (gelato!)?  If so, I suggest you head to Covington and dine at Europa Bistro & Cafe.  Europa used to be on Main Street, but they just got new digs at the Rivercenter.  It's a great location…you can dine in style and then take a stroll along the River.  It's perfect for a family dinner, a mama-daughter breakfast, date night, ladies night out, or for any occasion!  I haven't been there for dinner, and I'm dying to try their breakfast items (see their menu online for details).  I can however tell you about their lunches – which are delicious!  I'm a fan of the paninis.  My favorite is the Panino de Chevre, which has goat cheese, red onions, lettuce, and walnuts on a baguette (see picture above).  Delicious!
The food at Europa  is made from scratch with fresh ingredients.  They have so many options – such as: crepes, paninis, pasta dishes, healthy sides, hearty entrees, vegetarian cuisine and more.  They have specials each day, and if you are on a date you can bring your own bottle of wine.   It is a great place to go for a fresh meal at a locally owned (non-chain) restaurant!
Have you been to Europa?  What was your favorite dish? 
Europa: 50 East RiverCenter Suite 30   Covington, KY 41011
Phone: 859 -916-5511

Hours:
sunday :: breakfast,brunch, lunch & Dinner: 10:00a – 9:00p
monday :: lunch & breakfast: 11:00a – 3:00p
tuesday – thursday :: breakfast: 8:00a-11:00a – lunch: 11:00a-10:00p – dinner: 5:30p-10:00p
friday & saturday :: breakfast: 8:00a-4:00p – lunch: 11:00a-5:00p – dinner: 5:30p-11p