CLOSED. Congrats to FFC reader Jacqui Y.
Thanks to all who entered!
Did you know nearly 1,000 kinds of bats account for almost a quarter of all mammal species? How about that a single little brown bat can catch 600 mosquitoes in just one hour?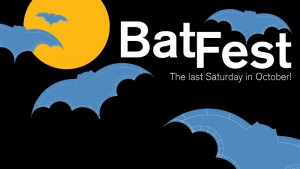 If your child is interested in bats, than these trivia tidbits are just the tip of the iceberg when it comes to what they will learn about if your family heads to the Cincinnati Museum Center this weekend for BatFest!
Saturday only, the Cincinnati Museum Center is celebrating all things bats, shining a much needed spotlight on one of the world's most misunderstood creatures. Kids in attendance will have a chance to interact with real bats, meet with bat conservation organizations, watch flight demonstrations, and more. There'll also be cavers climbing the Rotunda and special events in the Duke Energy Children's Museum.
1) Leave a comment below saying you'd like to win.
2) Subscribe to our eNewsletter (top right sidebar) & leave a comment on this
post saying you did so
3) Hang with us over on Facebook and leave a comment on this post saying you did so
4) Join our new Community Forum!
.
That's it, it's that easy. Four ways to enter, one entry for each completed! Giveaway ends Thursday, October 27th at 8:30am. Winners will be selected using a random number generator and contacted via email that morning so that we can arrange for ticket pickup.
.
Want to take your kids to BatFest?? BatFest runs Saturday from 10am to 5pm, with a variety of events and classes taking place throughout the day. The entire schedule can be found online at http://www.cincymuseum.org/events/batfest11.
A special thank you to the Cincinnati Museum Center for providing tickets for giveaway on Family Friendly Cincinnati.