For several reasons (health, diet, etc.) back in May I decided it was time to change the way my family was eating.  It was time to become more aware of the foods we were putting into our bodies.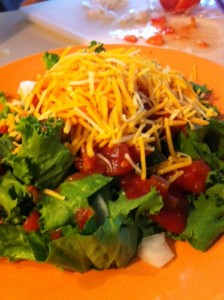 To get started, I met with FFC contributor Phyllis, who happens to be a health coach.  Phyllis took me to the local grocery store where we went on a 3+ hour educational tour. She walked me through the produce & health food sections and we went aisle by aisle. During our visit she educated me on the ins-and-outs of product labels and introduced me to healthier alternatives for products that my family has traditionally eaten on a regular basis – cereals, peanut butter, yogurt, etc. While it was a lot to take in, it was well worth the investment of time and energy.
Since that meeting, I have worked really hard to make sure that the foods I am buying for my family, are the best possible when it comes to ingredients.  Surprisingly, it's been pretty easy for the most part as there are quite a few brands these days focused on this area, plus a lot of brands you would know, are also now making healthier versions of their products.
One of the areas that Phyllis touched on was the benefits of organic produce.  Not something I had really thought about before, she made a good case for buying organic, and since our meeting, it's been something I've tried to move towards.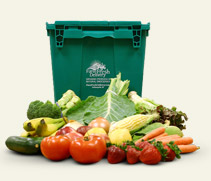 With all this change happening at home, I was excited with Green B.E.A.N. Delivery offered to let me try their organic produce home delivery service!  For those of you not familiar, Green B.E.A.N. Delivery brings organic produce & natural groceries from Midwest farmers and delivers them directly to your home or office.
Ordering from the site is easy, and they have several options for families of various sizes.  For my free trial I selected the $35 bin.  The bin arrived on a Friday. It came in a green bin that was insulated and contained a cooling package, which was good since it sat on my porch until I arrived home from work (the delivery period is between 2-8pm on your assigned day). You can also change up your order every week so you could skip weeks or order extra on a week you are having company, etc.  They email you a reminder to place your order for the week so they make it easy to stay on top of it all.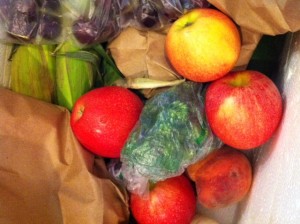 Some of the produce I received (I forgot to write it down) included cherries, lettuce, corn, tomatoes, peaches, broccoli, potatoes and pluots.  Now, I should mention that you CAN customize your order. So if your family hates cucumbers, you can make sure that they are not included in your order. You can also go in and add additional items to your order, the total just has to be more than $35.
Featured above: B-man enjoys a peach; The inside of my food bin; The cooling brick inside.
Overall I really liked the service and will try it again.  While we don't consume produce quickly enough to do an every week delivery, I do think bi-weekly would work for us.  I am also interested in their grocery service, which I haven't had a chance to try yet. In addition to their produce, you can purchase organic products like Annie's crackers, Cliff Bar snacks, applesauce, etc.
Want to learn more about Green B.E.A.N. Delivery?  You can find them on Facebook and Twitter where they post event info., pictures, recipes, interesting food facts and they host occasional contests and giveaways too.
Disclosure: Green B.E.A.N. Delivery provided their service at no charge to me. It was a one-time delivery offer. The above post reflects my true opinions and thoughts and are based soley on my personal experience.