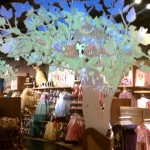 Yesterday morning Cincinnati got back a Disney Store. In fact, it's the only Disney Store in the State of Ohio.  I can remember going to the Disney's Store's when my girl was little. She could have spent the entire day there. All of the princess costumes and her favorite characters where just there for the viewing.
The new store is a destination.  And it's for both boys and girls – really anyone who loves Disney and all of the wonderful Disney Characters.  Who's your favorite?  I have a soft spot for Tinkerbell, personally.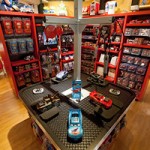 "The new Disney Store offers a one-of-a-kind, interactive and magical experience for Disney fans of all ages. Disney Store's new design concept aims to deliver "the best 30 minutes of a child's day" through immersive experiences including a Disney Princess with Magic Mirror, Translucent Trees, Disney●Pixar CARS-branded Ridemakerz experience and the Disney Store Theatre featuring the latest Disney entertainment. "
Disney has also incorporated Cincinnati landmarks into the design and added Disney characters. Here's what you'll find:
Aladdin and Jasmine can be spotted in the gazebo at Mirror Lake in the beautiful and popular Eden Park. Mirror Lake is also home to the Balluminaria 'balloon glow' event where hot air balloons are staged around the edge of the Lake. Carl (Up), flies by to see these beautiful glowing balloons in his own makeshift helium balloon airship.
Nearby in the park, Flynn Rider scales a local landmark, a 172-foot high water tower built in 1894.
Belle and Beast take a stroll by the fountain in front of the Cincinnati Museum Center at Union Terminal.
Catch a glimpse of Cinderella's Coach racing across the John A. Roebling Suspension Bridge. This historic landmark has been a symbol of the city since 1866, and was at that time the world's longest suspension bridge.
In honor of Cincinnati, Disney's famed Mark Twain Riverboat cruises down the Ohio River, complete with a live jazz performance by Scat Cat and his Band (The Aristocats)
Characters catch carriage rides near the Tyler Davidson Fountain, the centerpiece of Fountain Square.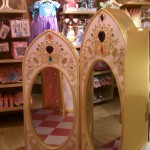 Kristin G. from FFC attended the opening of the store and thinks it's a place kids will enjoy visiting and having an opportunity to explore. There's so much for everyone to get to see and experience with opportunity for imaginative play and interaction.
The new store is located in Kenwood Towne Center at 7578 Montgomery Rd.  It's open from during normal Mall hours. If you're in the mall, you might just want to swing by and check it out and let us know what you think.
Be sure to stop by and visit me on my blog at Little World After All. 
Photos are courtesy of Kristin G and Disney. Disney did provide Kristin and myself with a goodie bag. Quoted text and landscape information was provided by Disney.