Whenever I read about something new to do for families, I get excited and make a mental note to add that to our family "to do" list. Recently the Cincinnati Nature Center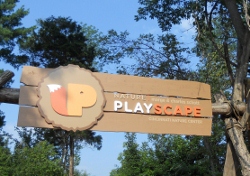 opened the Charles & Marge Schott Nature PlayScape (located in Rowe Woods, Milford, Ohio). Lucky for us,  my oldest had a soccer tournament in Milford last weekend and after the 8am game (ouch) we headed over to check out the CNC and the Nature PlayScape.
Pulling into the Cincinnati Nature Center (CNC), you'll first pay your admission fee ($8/adults, $3/kids 4-12 years, free/members). Since we are so accustomed to only having to pay for an annual parking pass for any of the Hamilton County Park District parks, paying the $8 adult admission seemed a tad high.  But I changed my tune after enjoying the CNC and learning that they are a non-profit nature education center.  Plus the CNC is an amazing place to visit.  Being immersed in nature and enjoying the breathtaking scenery with your family is what memories are made of.  If we lived closer, I would have purchased an annual family membership ($70) that not only allows you to enter the CNC at Rowe Woods as many times as you want, but you can also visit Long Branch Farms and Trails in Goshen, Ohio.
We started our visit in the Rowe Visitor Center.  Here we were greeted by a CNC naturalist who was so welcoming.  The RVC has hands on exhibits that kids love (doing the large fossil match was a winner for my oldest), a bird viewing area with binoculars, and a small area with snakes, frogs, and other creatures.  My youngest was fascinated with the large snake cage with the numerous snake skins on top of the cage. There is also a gift shop filled with lots of great nature related items.   We asked where would be the best place to start our visit.  He guided us to Powell Crosley Lake where we could feed the fish (handfill of pellets are $0.25)  and take a nice walk.  The walk to the lake was gorgeous.  The beautiful foliage, sounds of nature and gorgeous blue skies worked their magic on all of us.  The girls had a great time feeding the fish and the fish started following us as we moved along the side of the lake.  You can actually hike around the entire lake but we only made it 1/3 of the way before the girls exclaimed that they were ready to see the Nature PlayScape.
There are actually lots of trails to explore at the CNC.  You could return numerous times and explore new trails on each visit (click here for the Trail Map).  We headed back to the RVC and stopped by the restrooms before heading to the Nature Playscape (great tip since there are only portable restrooms near the Nature PlayScape).  The Nature PlayScape is wonderful.  If you have kids, please take them to visit.  The entire outdoor space is geared to not only engage them in nature but to allow them to play, play and play some more.   My girls loved playing in the sand pit but S loved the pea gravel pit even more.  My youngest had the best time filling her shirt with pebbles then moving them to various logs and stumps and adorning them with branches.  At the end, she had quite a gallery of pebble creations.  While S, was in pebbleville , my oldest was in exploration mode.  She headed over to the creek area where you can walk up/down the creak without anyone telling you to get out.  She could turn over as many rocks as she wanted or dip her hands in the mud and she loved it.  Farther back, you can walk along the trails into the West Wood where you will see some natural structures just perfect for kids to explore.  Seeing the flowers in bloom and watching my girls enjoying their natural surroundings was so rewarding.
While Dad was supervising the girls in the sand pit, I ventured off on my own and headed outside of the Nature PlayScape to check out Matt's Pond and Abner Hollow Cabin.  This was a short walk from the PlayScape.  The CNC also offers a variety of nature programs (from bird walks to hikes and more).  Some of the programs are free while others have a small fee.  Check out their calendar of events for more information.  The Nature PlayScape also has programs included with your admission that are guided by a play facilitator and the play facilitator will encourage natural play and creative fun.  Visit on the first Sunday of every month and you can enjoy an outdoor social complete with ice cream or cocoa.
I hope you'll get a chance to visit the CNC and especially the Nature PlayScape with your family.  If you'd like more suggestions on places to enjoy family fun in the outdoors, visit my personal website, MasonMetu, and see our playgrounds & parks page.
Cincinnati Nature Center – Rowe Woods
4949 Tealtown Rd., Milford, OH 45150 513.831.1711