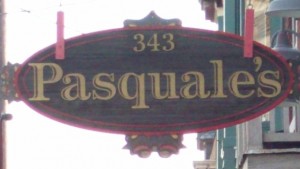 Where does every kid want to go after the first day of school to celebrate? A pizza place! Who has fantastic, cheesy, delicious pizza in a super family friendly atmosphere? Pasquale's! Even though my son told me he did not like "Italian pizza"…..and after my husband explained that the Greek people made some of the first pizzas (who knew?), we decided on Pasquale's Pizza. Located in downtown Bellevue at 343 Fairfield Avenue, Pasquale's is situated right on the road surrounded by quaint shops and a coffee house across the street. Given more time, I would have liked to have walked up and down the street to check out the surrounding shops.   This would be a great Saturday afternoon outing.
We parked on the street next to the pizza place and headed inside for dinner. We ordered the largest size pizza—15 inches in diameter. I was worried that it may not be enough for the 5 of us, especially since we were all starving! So, I ordered some delicious bread sticks. The pizza and breadsticks were more than enough.   The pizza was loaded with cheese almost to the edges, leaving little crust. We chose half pepperoni and half sausage/mushroom.   The sausage/mushroom was my favorite, as it was piled high with toppings.   The breadsticks were a round flat piece of bread covered in cheese and garlic butter.  Super greasy, but so good!  The kids had apple juice and my husband and I opted for sodas.  If you are not in the mood for pizza, Pasquale's has other options—hoagies, salads and other Italian fare.
At Pasquale's you seat yourself and go up front to the counter to place your order.  When your order number is called, simply raise your hand and a server brings your food.  Drinks are self-serve.  The inside of the restaurant is small and clean, filled with booths and tables and chairs.  We went at 6:30 on a weeknight and there was plenty of seating available, but they were still busy.  Pasquale's is a great change from the big pizza chains in a charming location near the river.  I hope you can visit them soon!
Check out Michelle's blog I'm Living the Good Life  to see if she really is!