Congratulations to Becky Ray-the winner of the Family 4 pack of tickets to the Old West Festival! 
Take a step back in time…to Dodge City circa 1878 to be exact!  This is the fourth year running that the Old West Festival has brought the past alive at their permanent site just east of Cincinnati near Williamsburg, Ohio.  My family and I had a chance to visit last year and we are itching to go back again!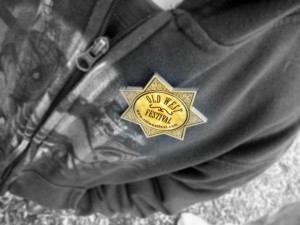 Last year was our first ever visit and everyone we met from the folks that helped with parking to the folks who ran the little shops and games were so sweet and helpful and definitely full of fun! (and that's saying quite a bit…we picked a drizzly, chilly day to attend…no one seemed to mind terribly much!!) Once we established that neither of the boys were 'Wanted' (at least not at the moment!) they were both promptly deputized and made to promise to protect the peace, mind their parents and eat their broccoli. Amen!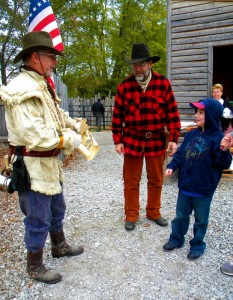 From there on in there was just so much to do and see that I don't think we managed to fit it all in!  We panned for gold, watched a show or two, ate the best kettle corn I've ever tasted, washed that down with a sarsparilla, browsed (and purchased!) some lovely hand crafted items and even witnessed a bank robbery and gun fight!  That poor fella below on the left didn't make it…and I'm still not sure if that fella on the right was a good guy or bad guy.  I imagine in the Old West it was hard to tell at times as well.

Every where we roamed there was music as well…so many little stages and platforms where you can sit and just enjoy the music, perhaps a tasty treat, and relax and watch the cowboys wander by.
In the Old West Festival's own words:
"Strap on your boots and mosey on out to a place where scenes out of a John Wayne western come alive as the Old West Festival returns to its permanent site just 15 minutes from I-275, east of Cincinnati. The fourth annual Old West Festival – running weekends September 10 to October 9 – transports visitors back in time to a Dodge City Wild West town circa 1878.

The old west and a good ole' fashioned gun fight go hand-in-hand. So, back by popular demand, four times daily starting at High Noon, the Big Irons Rangers return with their gun fight re-enactments. In between shows, they and other period interpreters will be walking the grounds to meet visitors. Oh, don't forget to come dressed in your best western bib and tucker as there will be a costume contest daily at 1:00 sharp.

The town will also be abuzz with period music. You'll enjoy the sounds of the 1800's with Changing Tymes and Gunpowder Creek, Bob Ford and The Ragamuffins, as well as Raison d'Etre, a trio mixing traditional folk songs with a capella swing tunes and Shaker hymns. Raison d'Etre will even be releasing a cowgirls song CD at this year's Festival! Don't miss that!

Other performers will be about town as well. Professor Faris' Magic show will amaze, bewilder and astonish you. While bending an elbow with a beer, sarsaparilla or root beer at the Long Branch Saloon, folks'll no doubt get a "kick" out of Madam Gigi's Outrageous French Cancan Dancers.

After whetting your whistle, head into town to the general outfitting store for some essentials and stock up on some (toy) guns for the mean streets of Dodge. Patrons can enjoy our very own Medicine Show or visit the dance hall, western clothing store, vintage photo emporium and old-fashioned candy store.

The Old West Festival's a grand time for the youngin's, too. At 10:15 a.m. daily, the kiddies can get sworn in as town deputies. They will also enjoy old-timey puppet shows, storytelling and sing-a-longs. The youngsters can also participate in historic games, pan for gold, take a ride on the Abigail Express train, ride horses or ponies and cross the frontier in a covered wagon.

Rodeo drill teams return this year as well as Theme Weekends: Civil War Sept. 10-11; Native American Sept. 17-18; Steampunk Sept. 24-25; Frontier Scouts Oct. 1-2; and America's Pastime Oct. 8-9.

This year, the Old West Festival welcomes The Pickled Brothers Circus, a comedy circus stunt show. Prepare to be awed by their feats! Be sure to catch them on the Festival's opening day when they attempt to set a new world record for the most targets hit with a bullwhip while swallowing a sword!"
Where else can you get that much entertainment plus a history lesson all in one place?  It's definitely one of the best local festivals that I've ever visited.  My boys and hubby were so into the atmosphere that they asked for costumes so they can go in character this year…my three little bandits!
GIVEAWAY:
The folks at the Old West Festival were generous enough to give us a family 4 pack of tickets to share with one of our readers so that you too can live your Old West dream! Here's how to enter:

Just leave a comment telling us what type of old west character you would be and you are automatically entered to win.  Is Billy the Kid your hero?  Jesse James?  How about Doc Holliday or Wyatt Earp?  Annie Oakley more your speed?  Cancan dancer, gun slinger, lawman…just tell us which 'hat' you'd wear and you could win a chance to live that dream!
Want another chance to enter?  Subscribe to our newsletter, follow us on Twitter or 'like' us on Facebook, leave a comment stating you did so and you get another entry.
That not enough chances to win??  You must really want to dust off that cowboy hat! Okay, share our giveaway on your blog, facebook page or twitter feed, leave us another comment saying you did and you are entered to win again!
That's 3 easy ways to enter (please leave one comment for each) and 3 chances to win!  Can't get any easier than that!  So mosey on up to that keyboard and get to enterin', partner! 
Giveaway ends and winners will be announced on Friday, September 2 at Noon.  Winner has 24 hours to respond or another winner will be chosen.
Giveway is now closed!  Winner will be announced shortly!!  Thank you to all who have entered, we hope to see you there!

The Old West Festival runs Saturdays and Sundays, September 10 to October 9 from 10 a.m. until 6:00 p.m. The Festival is located at 1449 Greenbush Cobb Rd between Mt. Orab and Williamsburg, Ohio just off St. Rt. 32. For more information, please visit www.oldwestfestival.comor call 1-866-WEST-FES (1-866-937-8337). Old West Festival is also on Twitter and Facebook.
Cost is $10 general admission; $6 for children ages 6 to 12; and children under 5 are free. Parking is FREE.
Just to get you in the mood, here's a photo of an authentic Old West shootout…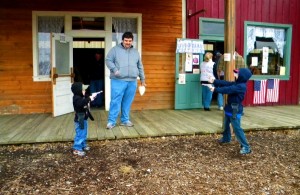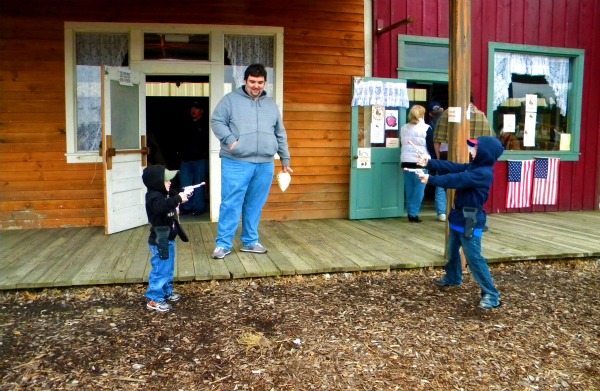 And that, my friends, is how the west was won…
Mosey on over to In a galaxy far, far away… and check out what universe Amy and her minions have been invading lately!