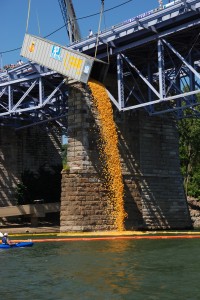 Last week the FreestoreFoodbank's Rubber Duck Regatta Mascot was nice enough to stop by the blog to tell us all about this year's Rubber Duck Regatta.  The popular event takes place down along the Ohio on September 4th at 3:00 p.m. During P&G Riverfest, the FreestoreFoodbank will drop an estimated 125,000 little rubber ducks off of the Purple People Bridge to race down Ohio River. The ducks, which are available for purchase right up until the race,  go towards feeding people in our community. Because of the deals the FreestoreFoodbank can make, every duck can provide 20 meals! Could you imagine being able to feed your family on $5, let alone turning it into 20 meals???
Ducks are on sale at area Kroger stores and other retailers and are just $5, each or you can purchase a flock (or is it gaggle??) of 5 ducks for $25 and they'll throw in a 6th duck for free. Now, get this…. when you buy 5 ducks, the Freestore can feed a family of 4 for an entire week from your donation!! Insane.
In addition to helping those in need, by purchasing a duck you are entered to win a 2012 Honda Civic LX, and maybe even $1Million! The owner of the second place duck will receive $100 per week to Kroger, for a year and five third place ducks will win $500 cash from Kemba Credit Union.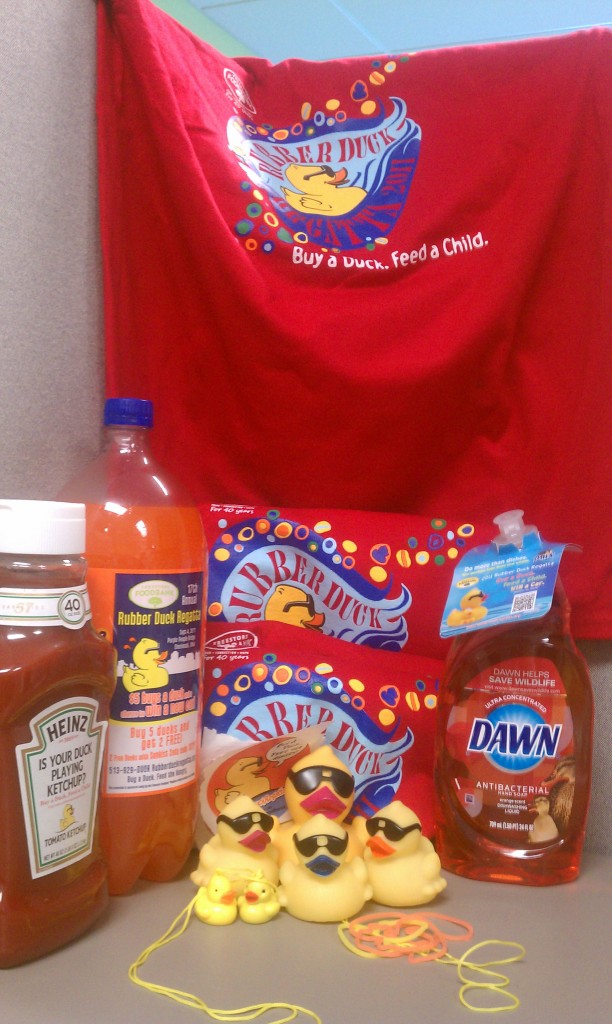 So, why are we bringing the Regatta up again? Two reasons 1) It's a great way to support a cause that is close to all of our hearts – feeding families 2) They've given us a SUPER FUN Rubber Duck Regatta Prize Pack to giveaway to one lucky (Ducky) family!!
Here's what you could win:
Rubber Duck Regatta t-shirts for a family of four (you can tell us sizes)
A 40 oz Quacky bottle of Heinz ketchup
A 24 oz Quacky bottle of DAWN
A 2-Liter of Quacky Sunkist
One large, Quacky signed, rubber duck
A family of small rubber ducks
Duck necklaces and stickers
Duck silly bands
How to enter:
(Please leave a separate comment for each entry)
1) Leave a comment saying you'd be interested in winning
2) Subscribe to our eNewsletter (top right sidebar) & leave a comment on this post saying you did so
3) 
Hang with us over on 
Facebook
 and leave a comment on this post saying you did so
That's it, it's that easy. Five ways to enter, one entry for each completed! Giveaway ends Wednesday, August 31 at 3pm. Winners will have 24-hours to respond.
PS. Those of you interested in purchasing a duck and supporting the Freestore Foodbank's Rubber Duck Regatta,
can do so online, here.