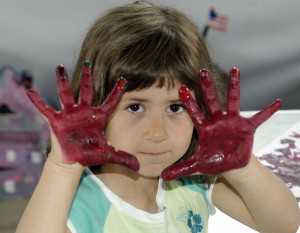 On Saturday, August 27th and Sunday, August 28, Community Arts Centers across the Tri-State will celebrate Community Arts Centers Day with FREE Art Parades!
More than twenty participating organizations will host fourteen Art Parades featuring participants of all ages celebrating their communities by creating fun costumes, masks, ban­ners, musical instruments, and more all in preparation for a parade through their community!  As a special treat, they'll also have a chance to enjoy some delicious include free ice cream, thanks to United Dairy Farmers.
If you haven't participated in the past, Community Arts Centers Day is a celebration of community arts centers throughout the greater Cincinnati region. The day works to bring people together with fun and free arts activities in their local neighborhoods.
This year there is some great stuff planned, here is a small sampling of some of the activities taking place include:
Covington Arts Centers: August 27, 12pm – 4pm
Hosted at Baker Hunt Arts & Cultural Center, children will create everything they need to put on a festive parade.  The parade begins at 2:30pm and will head to Covington's Artisan Enterprise Center for a post-parade ice cream social.
Artist Mary Faith Colon will be on hand to help with makeup
Baker Hunt will help children design shoebox parade float hats
Behringer-Crawford Museum will help children design masks
The Carnegie will help with costume design and creation
My Nose Turns Red will be teaching circus tricks the children can do during the parade.
The Center for Great Neighborhoods will have Art by Covington's Future onsite running a photo booth so children can take home a souvenir from the day.
Oxford Community Arts Center: August 28, 1pm – 5pm
Mosquito Performance: Band on Mosquitos. What summer would not be complete without the presence of these pesky bloodsuckers!? With the help of kazoos, our participants spectators will harrass and and annoy the parade spectators (not really) but banded together, they will produce music as only mosquitos can… imagine "Flight of the Bumblebees" on Kazoo… Many other tunes too! Other activities could include face painting or mask making!
Fairfield Community Arts Center: August 28, 12pm – 4pm
Butterfly Wings: Children will construct butterfly wings from brightly colored material, gauze, etc… They will attach the "wings" to dowels and then be able to wave them in the air as if they are flying.  There are many variations that could be done with project and we are willing to explore all aspects.
For details on all of the Arts Parades taking place this year, visit FindYourCenterNow.com.
In celebration of Community Arts Centers Day, we'll be sharing posts on some of our favorite arts centers from across the Tri-State all this week! Community Arts Centers play such an important role in our communities, and we can't wait to share more information about them with you!
Full Disclosure: FFC Co-founder, Shannan, works for The Carnegie in Covington. She loves her organization and is always sharing information about all the family friendly offerings that happen there.