Living in Warren County – "Ohio's Largest Playground", I sometimes take for granted that we are a mainstay for family fun.  Within a five mile radius of our home is Kings Island, Great Wolf Lodge, EnterTRAINment Junction, The Beach Watrpark and more.  With the summer winding down, we only had a little more time to try to finish our "Summer Bucket List" (SBL), and one thing on the list was to see Dinosaurs Alive! at Kings Island.  Since we are season pass holders, I didn't feel like we had to attend when it opened earlier in the season but we definitely didn't want to miss it so earlier this week, we headed over to KI and we LOVED it.

Even though we had to pay an additional admission fee ($7 for the combo ticket for Dinosaurs Alive! and the Dinosaurs Alive! 3D movie), it was worth it.  Kings Island really got it right.  I felt like we were stepping into Jurassic Park. The Dinosaurs are amazing.  Some of them are even interactive – the girls were able to push a button and hear the Dinosaur roar or move its tail. Plus as you walked by, many of the animatronic Dinosaurs came to life.  We even jumped a few times. Kings Island describes it best in their press release:
"The multi-sensory and interactive dinosaur park brings inspiration, science and technology together at Kings Island where guests also hear the sounds and see the movements of 60-plus fullsized animatronic creations made to replicate nearly every feature of the dinosaurs. Each of theanimatronic dinosaurs is hand-carved and covered with skin-like materials."
I really enjoyed the paved walk too.  The Dinosaurs are interspersed throughout the trees so the walk has many shady areas. The paved path is large enough for strollers and wheel chairs. Plus, KI added plenty of benches along the way if you wanted to stop and rest.  They even had vendors selling cool drinks and snacks along the way.  If you have small children, I'd recommend they use the restroom before entering the attraction since once you are in, it's quite a long walk. One of my girls'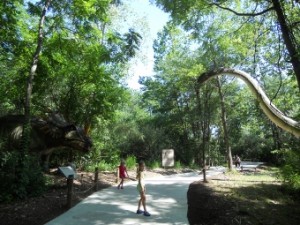 favorite thing was the fun Dino Dig.  Here kids get to be a palaeontologist as they dig, scrape and sweep away sand to reveal some Dinosaur bones all the while they are being watched over by a big (and I mean big) T-rex.
Reading about the Dinosaurs and seeing how many different types of Dinosaurs there actually were, was really educational. They have six main scenes depicting different dinosaurs and what they may have experienced.   I've always been a Dinosaur fan and I'm glad my girls are too.  This is an attraction where you can probably learn something new each time you visit. We learned even more after we saw the Dinosaurs Alive! 3D movie.  Even though my youngest was a bit sad that Sponge Bob was no longer on the big screen, the ten minute 3D movie will amaze you.  I liked that it was not only entertaining but also very informative.  Once you put those 3D glasses on, the Dinosaurs are up close and personal.  Some of the movie was a little intense for my six year old and she did put her head in my lap and held her hands over her ears but my eight year old was enthralled.  So, if you have little ones (6 and under), you may want to just do the Dinosaur Park ($5 with park admission) and skip the movie.
I also found out that they do birthday parties and they are comparably priced to other birthday party venues in the area.  They are only offered when the park is open to the public. A Dino party for 15 is $249 and it includes (from KI's website):
A total of 2 hours of dino-sized fun
Admission to the Dinosaurs Alive! experience
Parking in main KI parking lot
Party host / attraction guide
LaRosa's pizza and chips
Unlimited soft drinks
Cupcakes
Discount Kings Island admission coupons
Kings Island is only open for daily admissions through Aug. 28, but they'll be open for some weekends in September &  all October (don't forget Halloween Haunt opens Sept.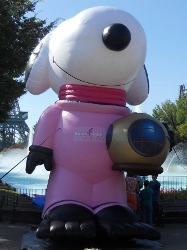 23 through Oct. 29 on Friday & Saturdays and the child friendly, Howl-O-Fest  is Oct. 1-30 on Saturdays and Sundays from Noon-5:30pm).  Kings Island now has a great deal for season pass holders – they can bring a friend through Aug. 28 for only $19.99.  If you don't have any season pass friends, make sure you check out their discount ticket pricing online. Pink Days are going on until Aug. 21 and tickets are only $29.99 – $1 of every ticket goes to the Susan G. Komen for the Cure Cincinnati Affiliate. You can also buy a $5 Snoopy for a chance to win a car and help raise money for breast cancer.  After Aug. 21 tickets online are $35.99 for adult general admission versus $52.99 at the gate.
To see more fun things to do near where I live (Mason, Ohio),  hop on over to my personal website,MasonMetu, from me to you.