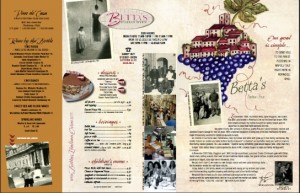 We don't go out to dinner all the time, so when we do, we like to make it worth our while.  We get tired of the same restaurants, but still need to find something kid friendly and fairly fast.  Luckily, our neighbor recommended Betta's Italian Oven located at  3764 Montgomery Road in Norwood.
Betta's is a small restaurant near Xavier University.  Look for the portly chef statue standing out front and you won't miss it!  When we first arrived, we were wary, since we were the only ones there.  Then again, it was just 5:00 on a Saturday evening.  As soon as we were seated, the families began rolling in the front door.
The dining area was small and cozy.  We sat next to the refrigerated case and had an excellent view of the delicious assortment of antipasto and desserts.  We also had a nice view of the giant wood oven, which was interesting for the kids to see.  They were able to watch a couple of pizzas go in the oven on the long handled wood boards.
We started with calamari and marinara sauce—of which I am not a fan—but I have to say that it was delicious!  We had a pretty big pile of it and between our 3 kids and my husband, it was gone in no time.  The boys were upset when they could see the bottom of the plate.  In fact, they tried to lick up the crumbs.  Compliments to the chef indeed!
We decided on two pizzas.  The pizza size is smaller than most places, 10 inches in diameter, but you get a delicious, light and unique wood-oven grilled pizza.  The two we picked were Pizza Margherita–with fresh chunks of tomatoes, basil and garlic– and Pizza Tricolore which boasted sundried tomatoes, spinach, fresh garlic and basil.  Of course both were covered in mozzerella cheese.  Both of these had a unique flavor with fresh ingredients.  No leftovers at our table!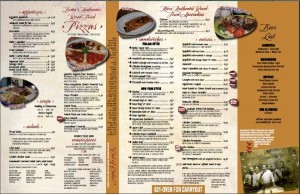 To finish our meal, my husband and I shared a large piece of chocolate spoon cake.  This cake was heavenly—a fudgy, rich slice of chocolate perfection.  The boys each got a smaller slice of  Reese's Peanut Butter pie.  I snuck a taste and would have been just as happy with this dessert!
Eating at Betta's with the kids was a fantastic dining experience.  No waiting, wonderful food, fast service, and a clean dining area.  The restaurant is right on the street, so parking is located behind the building.  Betta's does not have a website, but  if you call them, they will email their menu.
Sometimes it is hard to find a different place to eat that is kid friendly, but still has an adult feel to it.  With Betta's, we hit the jackpot!
Check out Michelle's blog I'm Living the Good Life to see if she really is!