When you look up the word quaint in the dictionary, there's a little asterisk that refers you to Lebanon, Ohio.   Lebanon, Ohio is the epitome of quaint with its small town charm, enticing main street  (actually on Broadway) that is  filled with antique shops, boutique stores, ice cream parlors and the historic Golden Lamb.  I really enjoy visiting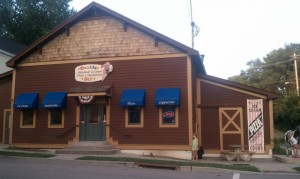 Lebanon but recently we found a hidden gem tucked away on a quiet side street near the trains.  If you're looking for a delicious place for a cool treat, then visit Double Dip Ice Cream (126 S. Cherry St.).  They've got flavor after delicious flavor of handmade ice cream just waiting for you. They also serve pizza and sandwiches.  The 1880 building just beckons you to enter and there's a life sized metal cow named Scooper out front who is the perfect mascot.
I tried the Raspberry Chocolate Chip, S opted for Cookies & Cream with sprinkles and K had her usual standby of chocolate soft serve.  Both S & I loved our ice cream – it was so creamy and there were so many flavors to choose from that I definitely want to return (Peanut Butter Fudge, Tiramisu, Espresso, Root Beer Float to name a few).  The soft serve was a bit too soft and had to get served in a dish with a cone on top but K didn't seem to mind and gobbled it up.
Double Dip has a nice patio space out back to enjoy your ice cream or you can head upstairs and play Foosball, or one of the two arcade games.  There is also a nice party room on the second level. On the first level, they have a Jukebox where you can play some tunes.  If you have younger kids, all these options can seem a little overwhelming, I know our larger group got a little over stimulated and management had to ask us to settle them down (so sorry!).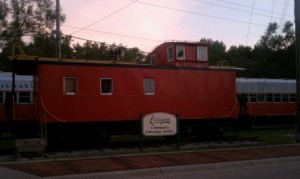 Lebanon has so much more to offer for families.  One thing that is on our "must do" list is to take a train ride on the LM&M Railroad (Lebanon Mason Monroe Railroad).  They offer family friendly themed train rides throughout the year.  Coming soon is their Train Ride with Clifford (Aug. 13 & 14, 20 & 21, 27 & 28).  They have a variety of train departures and the fun includes the train ride, a 45 minute stop over at the LM&M Junction, story time, visiting with Clifford and making a craft.  Prices are $18.50 for adults, $15.50  for kids (5-16) & seniors (62 years and up), $8.50 for toddlers (2-4), and free for infants one year and under.  In September, A Day out with Thomas is on the schedule.  You can also hop aboard for a one hour train ride during the Lebanon Country Applefest on September 24 (tickets are only $13/adults, $8 for kids & seniors, $5/toddlers).  The Lebanon Applefest is a free festival from 10am-7pm and it is filled with entertainment, family fun, delicious food, crafts and more.
Lebanon is also home to the Warren County Historical Society & the stately Glendower Mansion.  The Glendower Mansion is open Wednesday through Saturdays from Noon until 4pm until Sept. 3, 2011.  On August 20, they will have a free concert on the lawn at 7:30pm.  The Roving Rogues will perform Irish & Celtic music.  This music just makes you happy and you start tapping your feet as soon as you hear it.  Here's a little sampling from the Roving Rogues:
Close to Lebanon, there are also some great farms to visit.  Last year, we did our 2010 Farm Fest Tour or Bust  in the Fall, and we'll do a repeat performance this year.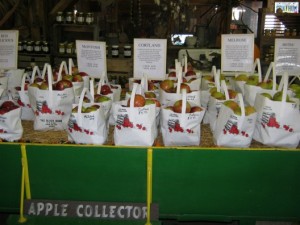 Some of the local farms you can visit are Schappacher Farms, Marvin's Organic Gardens (Fall Festival is Oct. 15), Irons Fruit Farm, Hidden Valley Fruit Farm and one of my favorite smaller places is the Black Barn. 
I hope you'll get a chance to visit Lebanon, Ohio one day soon.