UPDATE:  The Beach Waterpark will not be open for the 2012 season due to financial reasons.  For more information, please click here.  For other fun things to do with your family this summer, search Family Friendly Cincinnati and read our daily posts.  Thank you!
Come to the Beach!  Come to the Beach!  There's a place where life is easy, kick back relax and feel the breezes blow!  You know just where to go……..  Do you have the song stuck in your head yet?  If not, go to The Beach Waterpark website and you soon will!  If you are looking for a great place to have fun and cool off, but stay close to home, The Beach Waterpark in Warren County Ohio is a wonderful escape for the whole family.
During our "staycation" our family of five hit the waves at The Beach Waterpark in Warren County Ohio.  We rode the waves at Kahuna Bay, shot down the lightening fast slides of The Cliff and Typhoon Twist, relaxed on the Lazy Miami and hung out in The Pearl—a lazy lagoon.  My kids range in age from 2 to 8 and there was something for everyone…..even the middle-aged kids.
We started at Kahuna Beach Wavepool.  This was fantastic because I could sit in the zero entry wave pool with my 2-year old and enjoy the waves while my two older kids jumped around in the water up to their waist.  By the time we got there, no chairs were available, but that was ok because we sat in the water and put our towels on the concrete in a dry spot.
While we enjoyed the wave pool, my husband braved "The Cliff" which is a slide that is pretty much a straight drop—FIVE STORIES.  He said at one point he lifted off his tube and caught pure air.  He loved it.
 After the wave pool, my oldest son and his dad headed over to Typhoon Twist.  This 1,000 foot slide boasts lots of twists and turns and super fast straight-aways.  He loved it and even tried the "big" slide on the Typhoon Twist.
 While the boys braved the slides, my daughter and I took the slower, more relaxing, route.  We cruised down the Lazy Miami on an inner tube.  You can rent an inner tube or you can wait in line for someone to give you one of the freebies from the park.  We waited.  And, we didn't have to wait long!  We floated slowly down the stream and went under a couple of waterfalls, listened to the music and had girl time.  It was very nice.  Little kids can ride in the tube with their parents while bigger kids can have their own tube.  It really depends on if little bottoms and bodies can stay in the tube!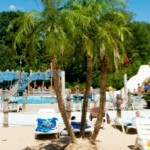 The Beach is not all waterslides and pools. Emerald Bayis for the folks with a competitive spirit….or maybe no shame!  You can swing across a pool on rings, while trying to balance on floating "lily pads."  It is so much fun to watch…especially if your husband is trying it.  They also have sand volleyball courts for land lovers.
After all of the excitement of the wave pool and slides, we wanted a smaller, quieter place to just swim.  We also wanted a place where our short 4-year old could get in the water and touch.  We found such a place in The Pearl.  A small lagoon pool with palm trees, waterfall, some zero entry spots and best of all, the deepest point was 4 ½ feet.  Perfect!
 If you are planning to visit  The Beach Waterpark, reviewing their website is a must!  There is a map, a description of all rides and activities, rules and much more important information.  Some tips if you go, from our experience:
If you want a chair, get there when they open.  We walked the whole park when we first got there (because we were getting a feel for things) and found 3 open chairs.  No joke.  We went on a Monday and it was not packed, but the free chairs were almost all filled.  You can rent chairs.
Free Coast Guard approved life vests are provided if you would like them for your children.  You may not use your own.
Pack a lunch!  If you pack a lunch, leave it in a cooler in your car and enjoy the picnic area outside of the parking lot.  No food or drink is allowed inside the park.  And, Security does check bags upon entering the park.  There are picnic tables with umbrellas and around lunch time it is fairly shady.  Get your hand stamped when leaving the park, eat lunch and go back inside and enjoy the rides!
Rent a locker for your valuables.  We did not do this.  In hindsight, it probably would have eased some of my stress of constantly watching our stuff!
Check out admission deals or season pass information on The Beach Waterpark website.  Some days, the park offers buy one get one free admission, and after certain hours you may get in for half price.  When we were there, they were offering season passes buy one get one free.
One thing I found out from the website after we got home is that The Beach plays movies on a big screen over their wave pool on Saturday nights.  Is that not cool??  You can enjoy the water, catch a wave and watch your favorite show!  Make sure you visit The Beach this summer for some cool summer fun.  If you can't go this summer, be sure to visit this winter for The Beach on Ice, when they turn the park into a winter wonderland.  Either way, your family is sure to love The Beach!
Check out Michelle's blog I'm Living the Good Life, to see if she really is!