There are countless extracurricular activities out there for young children…sports, academic teams, scouts, art classes, and the list goes on.  Finding just the right activity to meet your child's needs & interests can sometimes be a challenge.  After playing soccer for three years my daughter came to the conclusion that she just wasn't digging it anymore.  Now she is in enrolled in art classes and as happy as a clam.  Kids know best what interests them, and finding the perfect activity for them can be so rewarding.  Sometimes you have to think outside the box when it comes to extra curricular activities and sports for your children!
NKY Fencing Academy: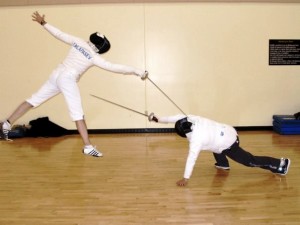 Do you have a young Jedi in your family?  A musketeer itching to duel?  Or a young one who appears to have pirate blood in them?  If so, then NKY Fencing Academy is just the place for them!  Fencing is not only good exercise and a way to learn how use a sword…it's great for improving balance, eye-hand coordination, agility, and confidence.
Ned Kalapasev, who opened the NKY Fencing Academy in 2011, started fencing in 1988 in Serbia.  The NKY Fencing Academy has beginner classes for children ages 9 years and older.
I think that Anne sums up exactly why fencing classes are so fantastic for young children:
"I know that Oliver loves  fencing class for a variety of reasons.  First, he is an active little boy who can't get enough of the physical activity that is involved in fencing (isn't it every boy's dream to chase others with swords?)!  What I appreciate is, that even though he doesn't realize it,  the movements and activity are very focused and controlled.  I can see that this builds a tremendous amount of self reliance, self control, and discipline (of both body AND mind!).  For a child who sometimes struggles with focus, this is a fantastic tool to channel that inner energy into something that is disciplined and controlled.  I think in today's fast paced  world, self control/discipline is needed now, more than ever!  I know that he also enjoys the camaraderie and the social aspect that he finds in your class, and have seen his confidence build even in the short time he has been taking lessons.  Also, on an academic level, I am anxious to incorporate some of the fencing's rich history into our curriculum, and learn more about it's relevance in early times."
If you think that your child would be interested in fencing, now is the time to sign up!  Registrations are now being accepted for classes.   The fees, dates, times & all other important information can be found on the NKY Fencing Academy website.  NKY Fencing Academy also has a facebook page where you can find information about fencing.  The NKY Fencing Academy also offers summer camps and birthday parties!  For information about NKY Fencing Summer Camp click here.
NKY Fencing Academy  — 301 Elm St, Ludlow, KY 41016
"We are a small fencing school focused on providing fencing lessons to everyone in a fun and safe environment."