As a Girl Scout troop leader for my oldest daughter, I'm always on the search for fun, free and informative places to take our troop.  Plus, "field trips" are memory makers.  I fondly remember the excited anticipation I felt when I knew I was going on a "field trip".  Since our troop budget is limited, I like to find places that are free or inexpensive to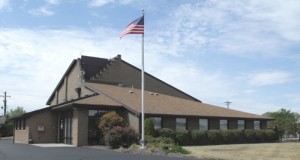 visit.  One place that we found was ICRC TV (Intercommunity Cable Regulatory Commission).  ICRC TV is housed in a self contained building in an industrial business park setting off of I-275 near Sharonville, Ohio.  You know you've arrived in the right spot when you pull into the parking lot and see the huge satellite disk in the back corner . ICRC TV is a great place to connect with  local community programming.  If you ever want to see a local Board of Education meeting, local sports, community parades and events then ICRC TV has you covered. I found lots of great videos for where I live (Mason, Ohio) and they also feature 26 other communities in Greater Cincinnati.
Our host, Studio and Education Specialist Jennifer Otten, was so welcoming.  She got the girls engaged right away when she pulled out this huge hand held video camera they use on location. I got a little bit nervous when each one of them got the chance to actually hold the camera but the girls loved it.  Jennifer then took us on a tour.  We got to see the video archive room.  This room was filled with televisions and a huge library of DVD's of local programming.  The girls visited the editing room where hours of footage gets edited down to a reasonable video length for the viewer.
The highlight of our tour was when we entered the actual TV studio. Here the girls were able to stand in front of the "green screen" and watch themselves on TV as a variety of backgrounds showed up.  They had a great time seeing themselves swimming in the ocean, hanging out in space, and more.  They had even more fun hiding under the green screen blanket and the popping their heads out. Plus, Jennifer would then take 1-2 girls in a separate small room where they could work on editing the other girls' performances.  They also have a large conference table perfect for interviews.  I wish I would have had the girls interview each other here.  So, if you take your troop, I'd recommend that they do a little advance preparation and have the kids practice interviewing each other.  Then you can have them pick some scenarios out of a hat and have them improvise an interview.  One person can be the interviewer and the other the interviewee and they could discuss topics such as best places for a birthday party, what their favorite playgrounds are, or how to make a pizza. While the interview is taking place, 1-2 kids can be in the editing room watching the interview and the remaining participants can be the audience.  They can then rotate their roles.  Jennifer was kind enough to mail us our finished DVD so the girls could see themselves in action. It had a nice professional Girl Scout introduction sequence and then it showcased the girls with the varying backgrounds.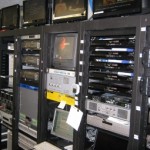 ICRC TV offers free classes too.  You'll need to first take the free orientation class that is held on the first Tuesday of the month at 6pm (no registration needed just show up) and then you can get registered for the other classes offered on camera use and editing.  I think these would be great classes for teens who would like to learn more about how to make a great video. Call (513) 772-4272 for more information.  Located at 2492 Commodity Circle, Cincinnati OH, 45241.
For other suggestions on free places to visit in Greater Cincinnati, please stop by my personal website, MasonMetu.