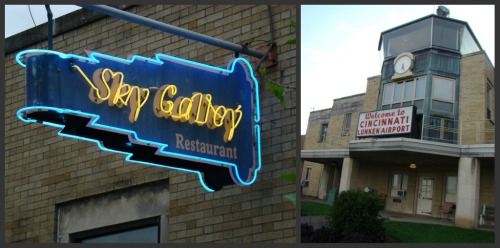 A few weeks ago we went to the Sky Galley restaurant at the Lunken Airport to celebrate Sam's 4th birthday.  The kids get to pick wherever they want to eat dinner for their birthday.  In an effort to avoid his inevitable request to go to the golden arches, I told him that there was a restaurant we could go to where he could eat dinner and watch airplanes land & take off.  That's all I needed to say, he was sold, and we were saved from happy meals.  I made reservations ahead of time, because I wanted to make sure we were seated somewhere near the windows, but when we got there the restaurant wasn't very full yet (we're early bird eaters), so the reservations probably weren't necessary.  We were seated in a room that has a whole wall of windows looking over the runways.  It was fabulous!  They also have a patio, but there was rain moving in, so we opted to sit inside.
While we were eating we got to see several planes take off and land, and a big storm moved in too!  It was crazy being in a room full of windows, but cool at the same time.  I love a good thunderstorm.  And after the thunderstorm we saw a beautiful rainbow, that seemed to stretch from one end of the runway to the other!  I've never seen the beginning and the end of the rainbow like that before, it was so neat.  The kids spent much of the meal gazing out the windows, which gave mom & dad some time to chat.  Although I must admit, we spent a fair amount of time gazing out the windows too.
The kids chose the same old boring food they always get, chicken fingers and grilled cheese.  Michael had a wrap.  I cannot seem to remember what kind of wrap it was, but he loved it.  It's not on the menu on their website, so perhaps it was a special.  I had a grilled chicken sandwich & asparagus, which were both delicious.  We had a really hard time choosing what to eat, their menu was filled with so many options that sounded tasty.  The prices were reasonable, and they had a wide variety of menu items, so you could get a sandwich or burger for a cheaper price, or opt for a more expensive option like steak or seafood.  I really want to go back because there were so many things I wanted to try.  And I love the location.  The service was wonderful there, our waitress was very sweet and attentive, the manager came around to ask how we were doing, and all of the other staff members I came across were very friendly.   One other thing to note, is that they also have some amazing dessert offerings on their menu.  We were heading home to make ice cream sundaes at Sam's request, so I didn't get to try any of those out…next time though!
After dinner we spent a while wandering around the airport taking in the sites, and sat outside for a few minutes looking at the rainbow and watching the planes.  This was a fantastic place to take the family for dinner, so much to see and explore.  If you are looking for a new restaurant to take the family to, look no further!
And after you eat dinner or lunch at Sky Galley you can drive down the road just a bit and check out the Lunken Airport Playfield, where there is a 6.5 mile trail for running/biking/walking, an 18 hole golf course, tennis courts, a driving range and the amazing "Land of Make Believe" which Amy Q. wrote a post about.
Lunken Airport Terminal
262 Wilmar Avenue
Cincinnati, Ohio 45236
513-871-7400 phone
Hours:  Sunday – Thursday 11am – 9pm;  Friday & Saturday 11am – 10pm