Even though today was cloudy and cool, our family had a great Father's Day.  My husband's only request was to be home later in the afternoon to watch golf and since golf was on the horizon, we decided to begin our Father's Day celebration by visiting Monster Mini-Golf in West Chester, Ohio.  If you read my recent FFC post about some of the things we wanted to do on our "Summer Bucket List", you'll see that mini-golf was one of Dad's top picks.
My only regret is that I recently missed a great deal Groupon Cincinnati had for Monster Mini Golf (only $15 for 4 rounds of golf), but I'm hoping that they'll do another Groupon and this time I'll jump on it since our family had so much fun today.  Admission was $7.50 for adults and $6.50 for kids to play 18 holes (we paid $28 for a family of four).  I did read that they offer a 3 month pass for only $25 and an annual pass for $75 so if your kids really like mini golf, this might be a fun way to keep them entertained.  They also offer a military discount of $2 off the adult regular price if you show a military ID.
Even though Monster Mini Golf has some cool looking monsters on display, nothing is overly scary but once you enter, it does get dark really fast since the entire place uses black lighting and glows in the dark.  My girls loved seeing their clothes shine.  We initially didn't keep score but then my competitive nature got sparked and I returned to get a score card to see if I could score better than my golf loving husband (bummer, he won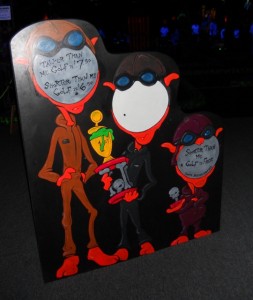 but I took home the prize winning shot when I scored a hole in one).   The girls had a great time and loved seeing all the monster displays – some even move, shake and make noise.  There were many families golfing and all were having a great time.  After turning in our golf clubs, the nice attendant even gave us a coupon to return for a BOGO admission on another day – now that is great customer service and a great way to get some returning customers.
After golfing, the girls wanted to play some of the arcade games.  The girls had Daddy playing multiple rounds of speed basketball so they could get even more tickets but I think he got a bit tuckered out. They had fun getting those paper tickets and even more fun feeding them into the ticket machine in order to get their grand total of tickets.  They were then able to pick out their prizes based on how many tickets they won. They carefully selected their loot. Now why can't they apply that much focus and determination to mastering math facts?All Users
I knew Monster Mini Golf was a hit when S asked if she could have her birthday party there (her birthday isn't until January).  We went to a Monster birthday party a year ago and the girls really enjoyed it.  They have a variety of party packages offered beginning at $150 for 12 kids and if you book on a Tuesday, Wednesday or Thursday, they'll take $25 off your party package. (For other birthday party options, check out Shannan's great post).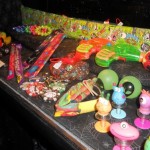 Following our golf adventure, we took the girls to one of our favorite soft serve ice cream places; The Cone (read more on my FFC post from last year).  It has the creamiest most delicious soft serve ice cream you'll find in the Cincinnati area.  K's cone of choice is chocolate, S went for a cherry slushy, I had the orange sherbet/vanilla swirl, and Chris opted for a cookies and cream malt. Yu
m – thumbs up from all of us!  The kids only got to play a few games this time since we had already used up our arcade fund for the day. If you visit The Cone be prepared since you'll be asked for lots of quarters to use in their air conditioned arcade game area.  Outside, there is a fenced in area with some adorable mini rides that kids love.
We hope you had a great Father's Day with your family.  For a listing of other places to play mini golf or enjoy an ice cream treat, visit my personal website, MasonMetu, from me to you.