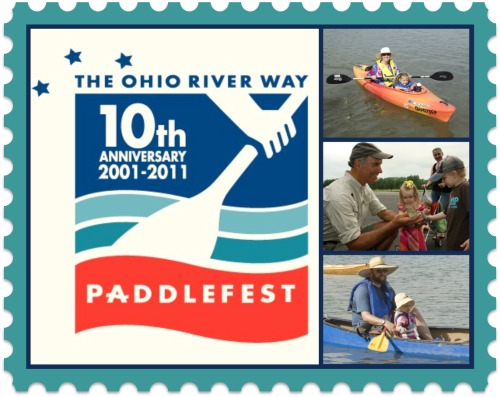 This year marks the 10th anniversary of The Ohio River Way's Paddlefest, June 23-25.  If you are thinking it's an event just for those who canoe then you are wrong!  This is a wonderful event for the whole family!  My dad and my husband have taken part in the event for the past several years, paddling their way from Coney Island to Sawyer Point.  The kids love to go down to Serpentine Wall and watch for their daddy and papa to paddle by.  It's so neat to see so many boats out together on the river!  Last year they had over 2,000 people take part.  But like I said, Paddlefest isn't all about the boats (well, ok, the boats are a HUGE part of it), but there are also other great festivities:  live music, fishing contests, activities for the kids at the Kids Expo, raffles, gear swaps, and so much more.  The event spans three days, and is jam packed with things to do with the whole family.  I cannot wait to attend this year.
So be sure to put Paddlefest on your calendars, and if you are interested in canoeing down the river then hurry and register, the registration fee is lower if you register before June 17th.  You can visit the Paddlefest website to register.
Here is the list of activities they have going on all weekend long:
Thursday, June 23
Paddlefest Kids Outdoor Adventure Expo at Coney Island Park, 9:30 a.m.-4:30 p.m. The larges environmental, nature and water safety education event for children in the Midwest. The Kids Expo is free and open to families and organized groups. Kids of all ages will be able to tour a towboat, fish, paddle a raft on Lake Como, take a nature walk, pet farm animals, climb a climbing wall, exercise to Zumbatomics and learn about water safety, nutrition, renewable energy and wildlife of the Ohio River Basin. More than 30 interactive exhibits and activities.
Friday, June 24
Ohio River Music & Outdoor Festival at Coney Island Park, 9 a.m.-midnight. Fun for the whole family on the banks of the Ohio.
10 a.m.- 9 p.m.: Boat drop off and registration open for 8.2-mile float trip, 11 & 14 mile races, Poker Run and Kayak Fishing Tournament.
9-11 a.m.: Northern KY/Cincinnati Chapter Team River Runner program for military veterans on Coney Island's Lake Como.
10 a.m.- 4 p.m.: American Canoe Association Smart Start kayak clinics on Lake Como (60-minute sessions) managed by Hamilton County Park District.
5-10 p.m.: Outdoor Gear Market & Vendor Fair presented by Mountain Khakis
4-8 p.m.: Northern Kentucky Fly Fishers Kayak Fishing Tournament on the Ohio River. Awards ceremony following final weigh-in at 8:15 p.m.
2-9 p.m.: Silent Auction
5-9 p.m.: Gear Swap & Flea Market.
5-11 p.m.: Ohio River Music & Outdoor Festival featuring live music on the WNKU Band stage:
• Wild Carrot & the Roots Band, 5-5:50 p.m.
• Jake Speed & the Freddies, 6:10-7 p.m.
• Browngrass & Wild Flowers, 7:20-8:10 p.m.
• Magnolia Mountain, 8:30-9:30 p.m.
• 500 Miles to Memphis, 9:50-11 p.m.
7- 8 p.m.: New Richmond Cardboard Boat Races on Lake Como, with an awards presentation afterward. This event is open to the public, go to www.ohioriverway.org/cardboard
9 p.m.: Registration and boat drop-off closes.
Midnight: Festival ends
Saturday, June 25,2010
Paddle the Ohio & Gold Star Chili Finish Line Festival at Yeatman's Cove, 6:30 a.m.-2:30 p.m. Join 2,000 children, adults and dogs in America's largest paddling event!
6:30-9 a.m.: Paddler registration and boat drop-off at Coney Island
(6201 Kellogg Ave., Cincinnati).
6:45 a.m.: Mandatory racer meeting.
7:15 a.m.: 14-Mile Pro Race begins followed by ll-Mile Amateur Race.
7:45-9 a.m.: Paddler put-in – S.2-Mile Float Trip & Poker Run
(last boat leaves Coney Island at 9:15am).
9:30-10:30 a.m.: Paddler Pit Stop at Schmidt Field – restrooms & drinking water available. Live music by The Howard House Band.
10:30 a.m.-2:30 p.m.: Gold Star Chili Finish Line ~estival at Yeatman's Cove – Live music by Laniappe, exhibitors, refreshments and more.
11:30 a.m.: Racer awards presentation.
1 p.m.: Raffle drawing and Poker Run prizes.
2:45 p.m.: Last shuttle bus leaves Public Landing for Coney Island.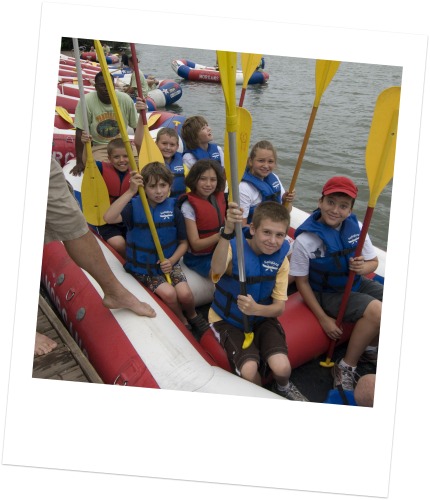 Paddlefest proceeds benefit the work of the Ohio River Way Inc., a nonprofit, volunteer-led organization, to complete the Ohio River Trail from Lunken Airport to Downtown Cincinnati as well as to sponsor the Kids Outdoor Adventure Expo and the Boaters Guide to the Ohio River.
**Schedule & Photos on this page were provided by our friends at Paddlefest.