Congratulations to FFC reader, Chad Showalter! Chad's name was drawn as the winner of the 4-pack of passes to Bug Fest! Thank you to everyone who entered!
———————–
Their creepy and their crawly and kids LOVE 'EM. What else could we be talking about but Bugs!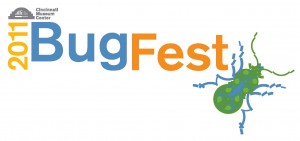 Cincinnati Museum Center's 8th annual BugFest is back June 4th from 10am – 3pm and organizers are ready to help your budding entomologist (I had to look that up… it's a person who studies bugs) to get up close and personal with some creepy-crawly creatures.
Bug Fest will be jammed packed with activities and have a fun variety of bugs for young participants to get to know. They'll have hissing cockroach races in their  L.I.T.E. lab, insecto-o-vision where you can see the way that insects see when you put on some "bug" glasses, you can meet the Museum Center's trantula, Cricket and you can even create your own insect to take home.
Sounds fun right?  There's more — There'll be insect tasting with ants on a log, chocolate covered scorpions, cricket jambalaya, chocolate cirp brownies….. Ummm. They'll also have activity/informational tables in the Rotunda with people from the Hamilton County Park District, Recyclebank, UC Department of Biological Sciences, the WAVE Foundation at the Newport Aquarium and tons of more fun activities!
We're excited to share that the Museum Center has given us a 4-pack of passes to giveaway to one lucky Family Friendly Cincinnati reader!
Here's the scoop on entering:
1) Tell us which tasty treat from the insect tasting you'd try, if you had to 😉
2) Subscribe to our eNewsletter (top right sidebar) & leave a comment on this post saying you did so
3)
Hang with us over on
Facebook
and leave a comment on this post saying you did so
4)
Become a Fan of the
Cincinnati Museum Center on Facebook
and leave a comment on this post saying you did soGiveaway ends Tuesday, May 31st at 3pm. Winners will have 24-hours to respond.
Good luck!