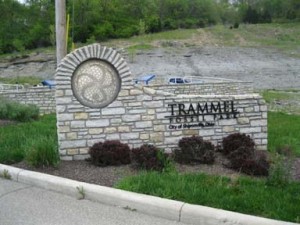 I can not tell you how many times I've driven either up or down Hauck Road in Sharonville.  It must number in the 100's. And, I can't tell you how many times I've noticed the sign for Trammel Fossil Park and have wondered what that was all about but have driven on in a rush to my destination.
Well, thanks to my wonderful husband, we recently turned off Hauck and onto Tramway Rd. to take the time to smell the roses or in this case to look at rocks.  Trammel Fossil Park is located in a very unassuming place for a park – it's at the dead end of an industrial park road. Boy am I glad we did! (There is no physical address other than Tramway Rd., Sharonville, OH 45241.)
This park is cool – really cool.  It's not a "normal" park – no playgrounds, no bathrooms and no grass. You do get is the side of a hill covered in rocks. And those rocks are covered in fossils – thousands of fossils.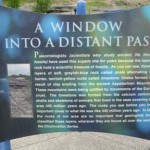 "Trammel Fossil Park is named after the family who donated the 10 acres to the City of Sharonville, the R.L. Trammel Family. This generous donation was made in the spirit that Sharonville would develop it into a place where schools and avid fossil hunters could come and explore for all time to come. Trammel Fossil Park is unique because there are very few places to dig for fossils in the Cincinnati area that are safe and accessible." (Taken from the Sharonville website.)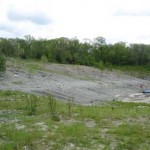 Safe and accessible is what I like most about this park.  I remember going into creeks growing up looking for dinosaurs and for some reason, they always seemed to be just downstream from a sewer – ewww. Having a place where my kids can explore rocks to their hearts content is wonderful. You can take fossils home with you.  The sign asks that you just take a few.
Because the park is really 10 acres of rocks, here's some helpful tips for you:
Where the right shoes.  I, of course, went in sandals the day we went and it was a bad choice.  Gym shoes would be my suggested foot wear.
Bring some tools along with you – maybe some old paint brushes, little shovels or tools to help pry out rocks. Please keep in mind that you are not supposed to dig in the park.
Make sure you use the facilities before you arrive. There's no restroom available, unless you count the surrounding woods as your idea of fun, go before you go. (There is a water fountain, but the day we went, it wasn't working.)
Plan to be there for at least an hour.  We only had half an hour open the day we went and my kids were super disappointed.  This is the kind of place your kids could literally spend hours exploring.  The park is divided into different layers of rock exposing different fossils. Hitting all of the layers takes some time.
If it's a sunny day, wear sun screen. The park is exposed to all elements and faces West. The view is actually quite good and far.
There are some picnic tables located at the base of the park so pack a picnic and make it an afternoon out.
We loved visiting this park and can't wait for the chance to head back and spend some more time scouring for fossils.  Cool is not a big enough word to describe it.
If you enjoyed this post, check out my personal blog at Princess Poodle Puss. I'd love to see you there!