From time to time, it's nice for parents to get a break and have a night out.  On May 14, the Greater Cincinnati Performing Arts Society (GCPAS) is hosting singer, Marcia Ball and they have given us two sets of tickets to give away for the 8pm performance at the McAuley Performing Arts Center.

Here's what they have to say about Marcia: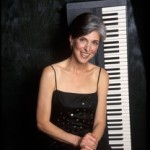 "The Texas-born, Louisiana-raised pianist/vocalist/songwriter Marcia Ball is famed worldwide for igniting a full-scale roadhouse rhythm and blues party every time she strolls on stage. Ball's groove-laden New Orleans boogie and rollicking Gulf Coast blues have made her a one-of-a-kind favorite with music fans all over the world. But she is also a master of transfixing her audience with an emotionally rich, passionately sung ballad. The Boston Herald says, "Ball plays masterful, red hot tracks from the Texas-Louisiana border. Her voice can break your heart with a ballad or break your back with a rocker." Photo courtesy of GCPAS.
Before Marcia you'll also get to see local Cincinnati pianist Ricky Nye perform. If you purchase your tickets in advance they are $27.50 (at the door it's an additional $5). Call (513) 484-0157 for more information.
You'll have until Tuesday, May 10 to enter and the winner will have 24 hours to accept or we'll have to select a new winner.  The giveaway is open to residents of Greater Cincinnati only.  Please do one of the following and make sure you leave us a comment so that we have a way to contact you (you can enter up to 3 times if you do more than one).
Join our FFC newsletter (upper right hand corner of page).
Visit the GCPAS site and tell us something you learned (who were some of their past performers?).
Tweet that @FamFriendlyCin is having a concert ticket giveaway to see Marcia Ball.
Leave a comment on the first concert you ever saw – would you pay to see them again? Mine was Lionel Ritchie followed by Bon Jovi…ahhh the memories.
Thanks to the GCPAS for providing the tickets and good luck to everyone.
Cincinnati, OH 45224
Phone: (513) 681-1800