Update- April 27, 2011:  We have sad news from the organizers of the Appalachian Festival: "It is with great sadness that we have to announce that we need to cancel this year's Appalachian Festival due to flooding conditions at Coney Island. Unfortunately mother nature just did not cooperate with us. We are looking forward to a great 2012. THANK YOU for your support. Please direct questions to 513-251-3378."
Thank you to everyone who entered. We are sorry to have to cancel this giveaway.
Looking for something fun to do Mother's Day weekend that the whole family can enjoy? How about heading to Coney Island for the Appalachian Festival?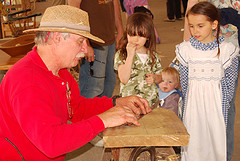 Presented by The Appalachian Community Development Association, the Appalachian Festival is a fun & educational three-day family-friendly re-creates authentic mountain life with down-home music, dance, storytelling, food and of course lots of wonderful crafts. Appalachian heritage runs deep throughout this entire region withmore than 300,000 people claiming Appalachian ancestry.
The Appalachian Festival is extremely affordable –> On Friday it's half-price admission with adults costing $4, seniors $2, and children ages 4-11 just $1. On Saturday and Sunday admission for adults is $8, seniors $4,  and children 4-11 are just $2.  Parking at Coney is $6.
So what will you find at The Appalachian Festival??  Here's a look at the Music, History and Crafts that will make the Appalachian Festival come to life:
The Music
The music lineup features Beans and Cornbread, Bear Foot, CalamityRain, Comet Bluegrass All Stars, The Corncobs, Farmhand, Ginny Hawker &Tracy Schwarz, The James Family and Kyle Meadows. Additional performers include Ma Crow, Missy Werner, OK Ramblers, Rabbit Hash, Steve Adkisson and Kentucky Wonder, Warren & Judy Waldren, and Wild Carrot & The Roots Band.
The Crafts
The annual Appalachian Festival is always an amazing shopping experience.More than 100 hand-crafters and gift-makers come from all over the entire Appalachian region (many of them first-time festival vendors) to display theirunique wares and meet the public. It's a great opportunity for everyone in thefamily to find that perfect gift for mom.
Visitors will be able to choose from an impressive array of crafts, including hand-made quilts and clothing, wooden furniture and bowls, pottery, metal sculptures,hand-crafted jewelry, leather goods, stained glass, musical instruments, baskets,handmade dolls, and much more.
The History
Always one of the most popular attractions at the festival, the large "LivingHistory Village" features period re-enactors, some 50 families camping just astheir Appalachian forebearers did 150+ years ago. The pioneer re-enactors willdemonstrate mountain life in the 1800s through authentic dress, living quartersand activities. Many demonstrators with old-time skills will be on hand, fromblacksmiths, soap-makers, spinners, weavers, ice cream and butter makers andmany others spread throughout the entire area.
The living history area is a special place for kids, too. Children have a blast witheducational and fun hands-on demonstrations, including mining for gems,fingerweaving (a Native American art form used mostly to create belts, sashes,straps, and other similar items through a non-loom weaving process) and makingapple butter. Additional activities include making cornmeal, flintnapping, andpottery and rope making. As always, children can participate in historic games(sack races, tug-of-wars, and finding a needle in a haystack), watch "hawkthrowing," and learn Native American dances.
Sound like something you'd like to check out? Festival hours are Friday 9 a.m.-9 p.m., Saturday 10 a.m.-9 p.m., and Sunday 10a.m. to 6 p.m.  Want to learn more? You can find the Appalachian Festival on Facebook and follow their updates on Twitter leading up to next week's events!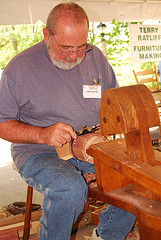 WIN TICKETS TO APPALACHIAN FESTIVAL
THREE lucky Family Friendly Cincinnati readers will win 4-pack of tickets to The Appalachian Festival at Coney Island.  Tickets are good for your choice of day.  Contest closes at 9pm Sunday, May 1st with the winners announced that evening.
There are several ways to enter, you can do one or all of them for additional chances. You must leave a comment for EACH one you do:
Tell us what you think your child will enjoy the  most
Subscribe to our eNewsletter (Top Right)
Come hang with us over on our Facebook page.
Tweet  about this giveaway (include @famfriendlycin)
Winners will be selected using a random number generator. Contest open to greater Cincinnati residents only. Winners will have 24 hours to respond. A BIG Thank You to organizers of The Appalachian Festival for providing us with tickets to giveaway to our readers.