The preview performance for Cirque Du Soleil's OVO was last night and FFC was lucky enough to be able to send several of it's contributors and their families to check it out.
Here's what they had to say about the show:
Show was amazing. The tightrope walker was unbelievable. How in the world can you balance on a unicycle while doing a handstand and peddling with your hands still has me in awe. The comedic timing of the main insects was fab. My girls were laughing out loud. Loved it all.  – Kristin G.

It was an incredible show! My boys LOVED the 2 main insect guys and the "fencing match"…..I've never heard them laugh so hard! I liked the "moths" that did the rope swinging….totally amazing! – Amy Q.

I can't decide which was cooler — the elaborate insect costumes and makeup, the gravity-defying, beautiful acrobatics and movement, or the energizing, fantastic live music. The whole thing was one cool experience that appealed to all ages, from my 4-year-old daughter to my 64-year-old dad. – Susan J.

My favorite part was the fact that it was obviously kid friendly, but had those little jokes in it that made it entertaining for the adults as well! I laughed so hard at certain points and the kids had no idea why. – Kandi B.

Seeing the Cirque du Soleil for the first time and getting to see the OVO performance was such a memory of a lifetime for me and for my entire family. The show is spectacular! and surpassed all of my expectations. For me, my favorite part of the show was watching the grasshoppers perform near the end. I've never seen anything like it. Mesmerizing! – Karen E.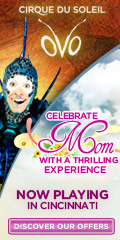 If you're thinking about taking your family to see the show, they've got a great discount right now in preparation for Mother's Day – 30% off!
Celebrate Mom with a thrilling Cirque du Soleil experience!
Treat your mother to a memorable Cirque du Soleil experience by taking advantage of our special offer on show tickets—bring your family of four to a show for only $107.50!