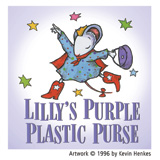 When my kids were young enough for me to read them books every night before bed, some of their absolute favorite books were written by Kevin Henkes – "Chrysanthemum" , "Sheila Rae", "Wemberly Worried", "Julius, Baby of the World", "Owen" and of course "Lilly's Purple Plastic Purse". These are just a few of his books, but all were checked out by us over and over again from our local public library.
When I heard that the Playhouse in the Park was putting on a production of "Lilly's Purple Plastic Purse", I knew we would have to go and see it performed. The book is adapted into a play by Kevin Kling and I think he did a wonderful job bringing the characters to life.  This is a traveling production, "Off the Hill", that will go to Nine Community locations between now and May 8.
From Cincinnati Broadway World:
"LILLY'S PURPLE PLASTIC PURSE tells the story of one-of-a-kind Lilly, the spunky little mouse. She speaks a secret backwards language and wears disguises, glittery glasses and red cowboy boots. One day she brings her magical, musical purse to school. Trouble at school and resentment about a new baby brother sets Lilly off on a whirlwind of adventures that will captivate young audiences. Kevin Kling has created a roller coaster of a play that has been a hit across the country.
"Any child or any person who's ever been a child can relate to Lilly and her efforts to do the right thing in the face of a world determined to throw baby brothers, complicated friendships and mysterious teachers in her path," said Director of Education Mark Lutwak. "It is one of the best modern plays ever written for children.""
Personally, we were enchanted with this play.  The cast was lovely and the script made all of my family (two adults and two kids – 6 and 8), giggle and smile the entire time.  The play lasted about an hour – just the right amount for a kid friendly play.  In our opinion, this is a must see for children of all ages!
Be sure to check out on the remaining nine shows:
Friday, April 22  at 7 pm
Bluebird Arts and Education Alliance
Highland High School Performing Arts Center
2400 Memorial Parkway, Ft. Thomas, KY  41075
Tickets are $7 and can be purchased on-line
Saturday, April 23 at 3 pm
Silverton Paideia Academy
6829 Stewart Rd, Silverton, OH 45236
Based on their website, I believe tickets are free, but seating is limited. Call 513-363-5473 to reserve your seat.
Saturday, April 23 at 7 pm
Baker Hunt Art and Cultural Center
620 Greenup St., Covington, KY 41011
Tickets are free, but seating is limited. Please call 859-431-0020 to reserve a spot.
Saturday, April 30 at 3 pm
Miami University VOA Learning Center
7847 VOA Park Dr., West Chester, OH 45069
This event is free.
Saturday, April 30 at 7 pm
Sharonville Fine Arts Council
11165 Reading Rd., Cincinnati, OH 45241
Please call 513-733-9600 for more information.
Sunday, May 1 at 3 pm
Evendale Cultural Arts Center
10500 Reading Rd., Cincinnati, OH 45241
Please call 513-345-3342 for more information.
Saturday, May 7 at 7:30 pm
Oxford Community Arts Center
10 S. College Ave., Oxford, OH 45056
This event is free.
Sunday, May 8 at 12 pm
The Center for the Arts
322 Wyoming Ave., Wyoming, OH 45215
Ticket are $5.
I'd love to have you visit me on my own blog, Princess Poodle Puss.