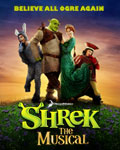 WOW…Amy C, Miss P and I just got back from Shrek…the Musical at the Aronoff.  It was amazing!  I have been a season ticket holder for a few years now and am never disappointed with the quality!  For Miss P's birthday last year, I decided to get her tickets for the show.  (I am still wondering what I was thinking getting a 4 yr old a present that can't be used for almost a year!)  I have to say I do believe she loved every minute!
All my favorites were there: Shrek, Princess Fiona & Gingy!  I almost forgot about Dragon!  Just in case you are planning on seeing the show, I won't reveal how they bring dragon to the Aronoff.  But I will say you will be amazed!  That is the thing I love about Broadway productions, they always find a unique way to do the most difficult things.
Of course, donkey was there too and he even has a few solos!  The writers did a wonderful job of translating the movie to the stage!  You even get to meet a 7 yr old Shrek and Fiona!   I do recommend staying clear of the souvenir booth!  But Miss C does look adorable in her Princess Fiona ears!!!  And I am sure she will be cuddling up with Gingy tonight!  Thanks Nana!
Shrek the Musical runs until April 24th.  Don't miss out!!  You won't be disappointed!  If you are interested, season tickets are on sale now!   Beauty and the Beast is coming next season!!   www.broadwayacrossamerica.com