Dining Out: Szechuan Garden
There are several Chinese restaurants around town that I love, and Szechuan Garden is one of them.  It's most definately a family friendly restaurant, and the prices are quite reasonable.  Szechuan Garden is located in Park Hills, right on Dixie Highway, not too far off of I75.  They offer dine-in, carryout, and even delivery (limited area, with a delivery charge).  We like to eat in, and so do the kids.  The place is decorated nicely, with lots to look at.  The kids always like checking out the artwork on the walls of restaurants.  The service is speedy, friendly & professional.  They are always very sweet with the kids, and making sure that everyone's needs are met.  I feel like we are at a fancy restaurant when we go there, without the formality, it's a very relaxed setting, with lots of families eating out side by side with the couples and the business aquaintences.
Szechuan Garden is open for lunch and dinner.  The lunch prices are cheaper than dinner, and the portions are a bit smaller.  The dinner portions are quite generous.  We always have leftovers for lunch the next day.  And like I said, the prices are fairly reasonable.  Most of the items on the menu are under $13 (some of the specials and such are more expensive).  There was a time several years back where I kind of fell out of love with Szechuan.  I'm not sure what happened then, but the food just wasn't as good.  In the past couple years though, I have given it another shot, and I'm so glad I did.  The food is excellent, and everything I've tried lately has been great…no complaints.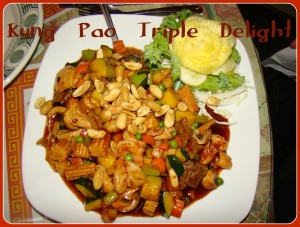 As I said, the portions are quite generous, and they always have the coolest garnishes on the plate.  The kids love the fruit & vegetable artwork that accompanies their meal!  Last time we went Michael had the Kung Pao Triple Delight and he loved it (I liked it too, but it was a bit spicy for wimpy me – it's one of the menu items that has that cute little pepper icon next to it indicating that it's spicy).  I had the Beef & Peapods ~ yum!  The kids are quite predictable…they might try our meals, but they mostly eat the Chicken Fried Rice or the Sweet & Sour Chicken.  I've tried several other dishes there, and they've all been delicious.  I can't wait to try more!
What is your favorite Chinese dish?
1504 Dixie Highway
Park Hills, KY  859-491-0505