There are so many fun things going on at the Behringer Crawford Museum for kids and families!  This gem of a museum tucked away in Devou Park is one of our family's favorite places to visit, and they always have something cool going on!  Here's some information about their Knothole exhibit and a couple fun camps!.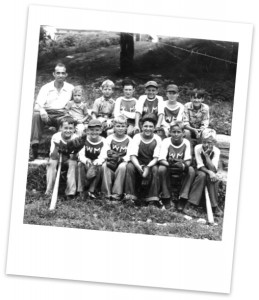 In a League of Our Own: Play Ball!
Knothole Baseball in Northern Kentucky
Now Open!
March 19, 2011 – June 05, 2011
Come soak in the nostalgic days of playing ball and the history of Knothole Baseball at Behringer-Crawford Museum in Devou Park.
Exhibit Features:
Video Interviews with current commissioners and Knothole players
In-depth history of Knothole leagues including artifacts
Photos and much more!
Each Saturday during the exhibit, current Knothole players are invited to see the exhibit free of charge and enjoy a special luncheon with past coaches and players.
Knothole Team Saturday Schedule
March 19 – Northern Kentucky Thunder
March 26 – Covington Turners
April 02 – Cottage AC, Latonia Youth Club, Taylor Mill
April 09 – Ludlow
April 16 – Northern Kentucky Sports Hall of Fame Reunion
April 23 – Campbell County
April 30 – Boone County
May 07 – Campbell County
May 14 – Dixie Area
May 21 – Boone County
May 28 – Dixie Area
Join us for Homer Rice, legendary coach of the Cincinnati Bengals, UC and Highlands, to speak on April 16, 2011 at 1:00 P.M.
——————————————————————————–
Summer Archaeology
Camp
DIGGERS WANTED!Senior Curator Program
Ages 11 – 15
8:30 a.m. – 4 p.m.
Campers return to Big Bone Lick State Park to excavate at a real archaeology site. They will learn archaeology history, how-to prepare and excavate a dig site and clean and classify artifacts.
Plus have a whole lot of fun!
Do YOU have what it takes
to dig into history this summer?
Cost:
$175 Members
$225 Future Members
Camp Claymation
Bring clay figures to life by the use of animation ~ hurry, just a few spaces left!
Spring Break
Two Day Camp
April 12 -13, 2011
9:00 a.m. – 4:00 p.m.
Ages 8 – 12
$100 Members
$125 Future Members
Extended camp from 8 a.m. – 5 p.m. $50 additional
Min. Participants 7 – Max. 12
Reservation Required by April 1
Directed by Ruben Moreno, a visual artist with 15 years experience teaching clay animation and media arts. He has led programs at the Speed Art Museum in Louisville and the Taft Museum in Cincinnati and is a member of the arts education roster of the Kentucky Arts Council.
Grand Discovery Camps
Grandparents* and Grandchildren can enjoy summer time activities together!
Come spend time with each other and participate in crafts, games, skits, songs and snacks.
Minimum number of participants is 7 pairs.
Junior Grand Discovery Camps are for ages 4 – 6
Senior Grand Discovery Camps are for ages 7 – 10
Cost: Museum Members $40 per couple
Future Members $50 per couple
$10 for each additional participant adult or child
*Children can be accompanied by any adventurous adult!
Pioneer Camp
Jr. Pioneer Camp
June 14 & 15
10 a.m. – 12 p.m.
Sr. Pioneer Camp
June 16 & 17
10 a.m. – 12 p.m.
Nature Camp
Jr. Nature Camp
July 7 & 8
10 a.m. – 12 p.m.
Sr. Nature Camp
July 11 & 12
10 a.m. – 12 p.m.