I am a firm believer that you can only learn so much from books. That to really understand a topic,  you need to experience it. It is one thing to show a child a photo of an elephant or show them what a musical instrument looks or sounds like, but there is no comparison to giving a child the opportunity to SEE that elephant or HOLD that instrument in their hands.
It is this philosophy that really drives my husband and I to get our boys out and experiencing things they are learning about in school.
Recently my oldest son's class studied and did reports on American Indian tribes.  Some of you who read my personal blog, may recall that he did his report (and diorama) on the Chickasaw Indian Tribe.  While we were able to get online and research the tribe, see photos of their way of life, it just wasn't the same as if he would have been able to see actual Chickasaw items.
While his report is long over, I am excited that this weekend he will have the opportunity to get a closer look at Native American cultures when the National Ancient American Artifact Exposition comes to the Drawbridge Inn in Fort Mitchell.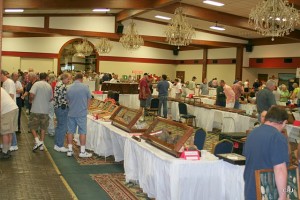 Running April 1-3, The National Ancient American Artifact Exposition offers up one of the largest displays of Native American tools and weapons ever assembled in this area, with arrowheads and spear points, pottery, axes, and the beautiful artwork of the ancient people from across the world.
Spend a day at the Expo and have a eye-opening trip into world of the Paleolithic Midwest, when the huge extinct animals such as the mammoth and sloth still existed along with early man. Explore the functional artwork in over 12,000 years of flint, and the exciting and inspiring artifacts of the more permanent Woodland Indians such as the Ft. Ancient culture along the Ohio. Worthy of a show unto themselves, hundreds of pottery vessels from across the world will be on display. The Expo is a vast and varied museum on interactive display, with the AACA collectors freely answering questions and identifying Native artifacts for the public.
You can learn more about the National Ancient Artifact Expo at  www.theaaca.com/show. Admission is $3 per day, or $10 for the entire weekend, which includes a Preview Party at 7pm Friday night.  Children  12 and under are free with a paying adult.