My eight year old daughter was super excited when she heard there was going to be an exhibit about Cleopatra at the Cincinnati Museum Center. When I told her we would be going to see it, she was giddy.  We headed down to the Museum Center a few Sunday's ago to have a look for ourselves at this amazing exhibition.
Up front I need to say I was glad my daughter had spent some time reading books this past Fall about Cleopatra as the material in the Exhibition plentiful and although portrayed simply, it was sometimes on a more adult level.  I don't believe that a child much younger than 2nd or preferrably 3rd Grade would get much enjoyment out of going. That being stated up front, let's get to the nitty gritty.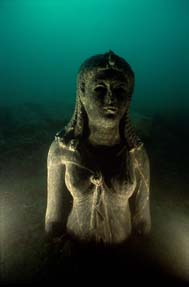 The Exhibition was very well thought out and the sequential layout was easy to follow.  Each visitor is given their own headset (not headphones – instead, this looks a bit like a remote control). As you walk through Exhibition,  you punch in the numbers as you come upon them and the story of Cleopatra unfolds before you as told by "Cleopatra" herself so it's in the 1st tense. Only you can hear your device, which surprised me – I expected to hear lots of other people's devices, but I didn't.   The nice thing about these devices is that you control them. You can listen to one of the recordings again, you can stop them, increase or lower the volume and really go at your own pace.  They were easy to use.  Except for one little glitch on my part.  When I pressed Number 1, I must have inadvertently pressed Numer 11 instead which meant I was a bit confused and lost for the first 10-15 minutes. I couldn't figure out the sequence based on what I'd heard and it threw me off. Once I got to Number 11 and realized what I had done, the pieces fell into place.  I have no idea how often this happens, but it would have been super helpful to have the recordings announce what number I was listening too. A small thing, but it did impact my understanding as the story unfolded before me. So if you go, and things aren't making sense to you, try going back and see if you heard something out of order. (Photo with this paragraph was taken by Christoph Gerigk.)
While the Exhibition tells the story of life of Cleopatra – how exceptional she was, her intelligence, drive and the two loves of her life – Caesar and Marc Antony;  it is also a showcase of the findings  by French underwater archaelogist Franck Goddio.
Without his contributions, this Exhibition would have only been a story with perhaps a few artifacts.  What he has done and been able to discover is nothing short of remarkable.  He began his excavation of the Eastern  Harbour of Alexandria (the ancient capital of Egypt) and the Bay of Aboukir  in 1996.  Each year since, he and his team have a six week dive "season" to explore the ruins underwater and to discover new artifacts. Each new finding increases our understanding of this time in history.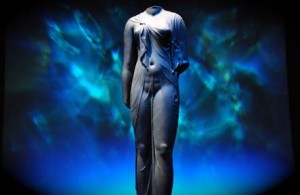 Walking through the Exhibition it was so amazing to see the intricate jewelry and coins and other artifacts that have been discovered.  I know that I learned about Cleopatra (a long time ago) in school, but to "re-learn" this history as it's now known today along with viewing actual things used daily was special and brought the story to life for me and my daughter.
There are a total of eight Galleries in the Exhibition. As we entered Gallery 7, we watched a video featuring Dr. Zahi Hawass, Secretary General of the Supreme Council of Antiquities of Egypt, as he tries to answer one of the biggest unsolved mysteries about Cleopatra – the location of her final resting place.  This man has passion and excitement surrounding him.  He believes he's on the right path to soon discover  the tomb of Cleopatra and Mark Antony (as it's believed they're buried together). (Photo to the right is credited to Cincinnati Museum Center/Matthew Prefontaine.)
As someone who loves history, I look forward to more relics, artifacts and history to unfold about the fascinating life and death of Cleopatra.  We attended the Exhibition along with six other students from my daughter's School District.  After we finished, we gathered in the Museum's Rotund to discuss the Exhibition.  When asked to rank the Exhibition on a scale of 1 to 10 with 10 being outstanding, this group of 3rd – 5th Graders all stated their delight in the Exhibition and handed out numerous 9's (9.75 was my favorite), and a few 8.5's. The adults in attendance were all in agreement and everyone stated they had learned something previously unknown to them.
You and your family can visit the Exhibition now through September 5, 2011.  The cost is separate from regular admission – Member Adult is $14 and Member Child is $10; Regular admission is $23/ Adult; $15/Child; and $19/Senior.  We spent about 2 hours from start to finish and never felt rushed to move along nor were we bored by the Exhibition.
In addition, the Museum Center is offering some additional programs about Egypt – a book club, Summer Day Camp, Egypt Birthday Party, and an actual exhibit in the Museum of Natural History, The Science of Mummies.  To find out more about these, call the Museum Center at 513-287-7021.
Thank you to the Cincinnati Museum Center for providing two complimentary passes to the exhibit to me.