Can you believe CIRQUE OVO lands in Cincinnati in less than a month? Family Friendly Cincinnati is proud to be a partner with Cirque Du Soleil and to share this new special offer with you.  Stay tuned for ticket giveaways in the upcoming weeks too!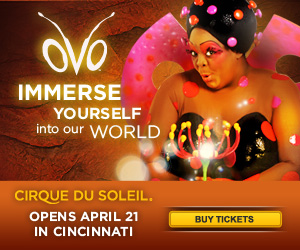 Cirque du Soleil's touring production OVO is hitting Cincinnati this spring, and you can bring your family of 4 to select performances for as little as $115!
Cirque du Soleil is pleased to announce that it will open in Cincinnati with its touring big top production, OVO, starting Thursday, April 21st, 2011. OVO will perform for a limited engagement under the trademark blue-and-yellow Grand Chapiteau (Big Top) at Coney Island.
OVO is a headlong rush into a colorful ecosystem teeming with life, where insects work, eat, crawl, flutter, play, fight and look for love in a non-stop riot of energy and movement. The insects' home is a world of biodiversity and beauty filled with noisy action and moments of quiet emotion.
Fun for the whole family!
The Family 4 Pack is available for performances from Tuesday to Thursday at 8pm, Friday at 4pm and Sunday at 1pm & 5pm. Only purchases from 4 to 8 tickets may benefit from this special package. Two adult and two child tickets start at $115 plus applicable service charges. A minimum of one adult ticket and one child ticket must be purchased within each Family 4 Pack.