I love finding places to eat out that offer fresh, mindful ingredients with delicious flavor that will satisfy the entire family.  The Green Dog Café located on Columbia Parkway, just east of Delta Ave near my favorite hot yoga studio delivers just that.  The menu offers soup, salad, wraps, burgers and I just turned the menu over and found bowls that will satisfy most any taste.  Food is ordered at the counter and deli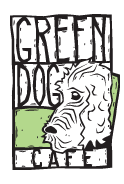 vered to your table.  This is especially efficient for dining with the family.  I find that ordering immediately upon arrival at a restaurant is important to dining with my little people to avoid the boredom factor before we even order.  The Café does offer adult beverages including organic wines.  This café is very mindful of the environment so you won't find a straw, the cups are reusable and the takeout containers are made from eco-conscious.  You will find clean silverware on your table along with brown paper napkins.  The environment is open, light, clean and comfortable…perfect for family dining.
I've tried several things from the menu and they were all delicious.  My most recent obsession is with the bowls; there are several to choose from.  My favorite is the Green Chow Chow Curry bowl which is brown rice topped with fresh spinach and mushrooms in the perfect creamy green curry sauce.  I've already been back for seconds.  While the menu does not include a kid's menu that actually makes the experience much easier for me since I don't like ordering from them generally.  Without a kids meal, the girls can eat off of our meal, split a meal (if they can agree) or get an appetizer.  I find this helps with the cost of the meal and our health (quality and quantity).  Often my husband and I will make 2 choices that we can all share or each of us can share with a daughter.  Sometimes we'll add a healthy side of their choice.
Green Dog shows us that food can be fast, affordable and family friendly without sacrificing quality.
GREEN DOG CAFE
3543 Columbia Parkway
Cincinnati, Ohio 45226
(513) 321-8777
greendogcafe@fuse.net

Facebook