A few weeks ago my husband happened to mention to me that his co-worker's wife had opened up a new sewing boutique in Oakley that he thought Family Friendly Cincinnati readers would be interested in.  Now, when I think of a sewing store I think of rows and rows of polyester blend fabrics and those patterns my grandma used to have laying around.
Let me tell you right now, that is not the case with Sewn Studio. I headed out to check out Sewn Studio in Oakley, and WOW.
This is NOT your grandma's sewing store.
Located across from the restaurant HUGO on Madison Road, Sewn Studio is probably the coolest sewing & fabric store I have ever been too. While Sewn Studio carries all the tools you need, they specialize in carrying fabrics by hard to find designers like Amy Butler, Joel Dewberry, Anna Maria Horner and Tula Pink. These designers are actually part of the reason owner, and working Mom of two, Stephanie Gilbreath opened Sewn Studio. A life long sewer, and daughter of a life long sewer, Stephanie loved to sew but could never find the fabrics she loved locally. Thinking she couldn't be alone in her search, she soon decided to open her own business, and on February 14th, Sewn Studio opened it's doors in Oakley.
As I mentioned, Sewn Studio is not your average sewing & fabric shop, on top of the hundreds of gorgeous fabric selections, Stephanie carries all the tools you'll need for your projects including patterns for modern pieces like these:
Messenger totes, baby slings, ties, tunics –> Just a few of the hundreds of cute patterns you'll find at Sewn Studio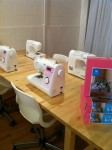 For those of you who've always wanted to sew but you were never taught as a child, you're in luck!  Sewn Studio also has classes. Each month Stephanie plans to offer a variety of sewing classes at all levels – from the beginner, to the advanced sewer. On top of that Sewn Studio will also have classes for teens! Classes are open to 6-8 attendees allowing Stephanie to provide hands-on assistance and training.
Want to learn more about Sewn Studio in Oakley? Their website is still under construction, but you can find them on Facebook and on Twitter & of course we encourage you to visit them at 3212 Madison Road!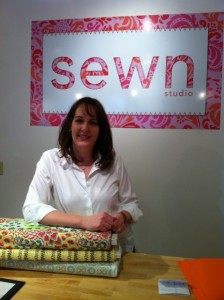 Sewn Studio
3212 Madison Road
Cincinnati, OH 45209
[email protected]
Hours
| | | | |
| --- | --- | --- | --- |
| Mon: | 10:00 am | – | 5:00 pm |
| Wed: | 10:00 am | – | 5:00 pm |
| Thurs: | 10:00 am | – | 8:00 pm |
| Fri – Sat: | 10:00 am | – | 5:00 pm |
| Sun: | 12:00 pm | – | 4:00 pm |