I've always wanted a personal chef to come into my home with groceries, prepare dinner, clean up and leave.  I don't mind cooking; it just seems that at times our life is busy and the time associated with planning, shopping, prepping and cleaning isn't always there.  The personal chef here is Michael Shield a locally trained chef who has come back to Cincinnati after hanging out with Emeril Lagassee for a while.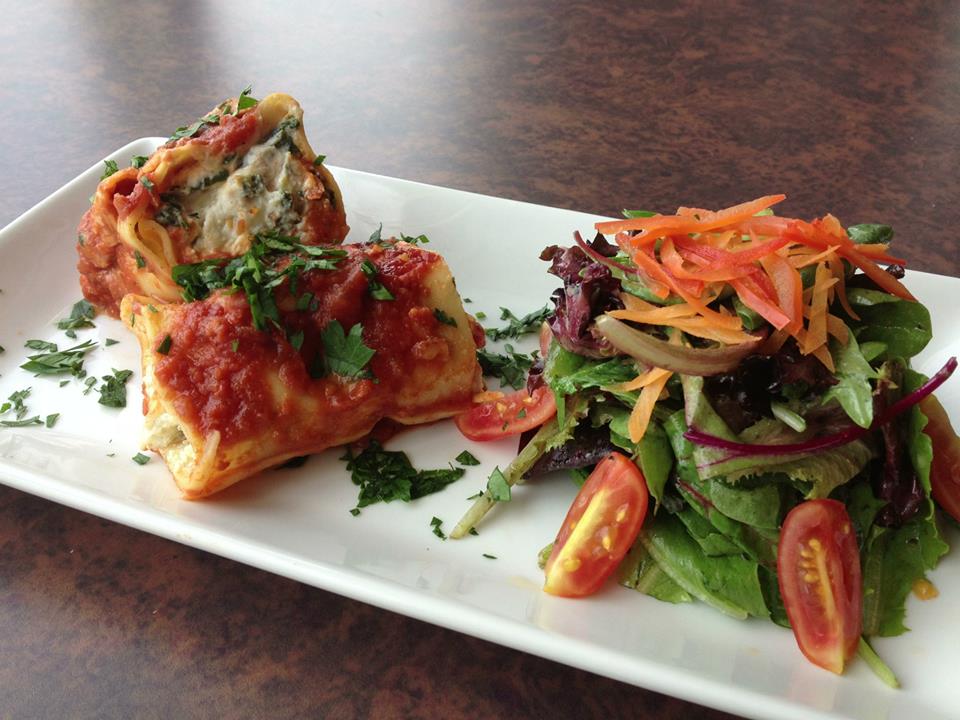 Each week I drive by A Forkable Feast (located in Oakley at on Madison near Ridge) and think I want to stop in to pick up something for lunch or dinner and it just happens they are closed on Sunday (good for them) so this week I stopped in on a Wednesday in between the girls dance classes and picked up dinner.  There is a table and small counter bar if you want to eat in lunch but it's mostly take out.
This place is great; it's like having a personal chef without someone coming into your home.  This catering kitchen also provides individual servings of entrée, sides ready to go, handmade pasta, soup along with salads, sandwiches and pizzas made to order.  S and I stopped in and she was immediately greeted with a cookie (to which S exclaimed, "mom this is a real homemade cookie!") while the gracious host helped me select some entrées to try. The chef was in the kitchen ready to make a made to order option. We went with veal ricotta meatballs, lemon rosemary chicken, beef stroganoff, lemon pepper pasta (handmade) and a side of creamed corn.  We were also given sliced French bread, a "treat while you heat"  and chocolate hearts.  They are also vegetarian and gluten-free friendly celebrating gluten-free week last week with an entire menu of gluten-free treats.
First of all we did not need all that food for our family of four.  It was fun trying the different entrees.  We had leftovers for days. My youngest daughter liked the pasta and didn't love the meatballs.  The oldest liked the meatballs and not the pasta; the next day she liked the pasta (kid's are so fickle sometimes).  Greg loved the creamed corn (said it was the best he ever had –probably the fact it was topped with smoky bacon) and I agree, not being a creamed corn fan I thought it was delicious.    He thought the chicken needed more rosemary and less lemon but overall it was roasted and presented very nicely.  We all agreed the beef stroganoff was delicious!  The portion was very generous and one portion would easily feed two people.
All of the entrees and (warm) sides are individually portioned and re-heat in the microwave or oven in 7 to 9 minutes in the packaging they come in.  We chose the conventional oven method while we cooked the pasta (cooks in 3-5 min) and set the table.  Each entrée is priced between $6.95 -$9.95 and the sides were $2.95 -$4.95.  The day I was there they had a couple of soup choices including asparagus bisque which sounded delicious.  The pasta (feeds 3-4) was $4.00.  Our three entrees, one side and one bag of pasta totaled $30.  While I don't normally spend that much on one dinner at home, it would cost more to eat out and when I factor in the time I saved on planning, shopping, prepping and clean-up, it was well worth it.   Eating out would have taken more time, cost more for a similar meal and not been a pleasant experience with hungry, tired little people.
To preview the menu and order online you can visit A Forkable Feast online and don't forget to ask for a frequent dining card to get a free meal after you buy eight.  For busy families who want to eat well and at home this is a great service with delicious food.
Photo courtesy of the A Forable Feast Facebook Page.