Here's what is going on around Cincinnati & Northern Kentucky in the next few weeks to celebrate St. Patrick's Day 2011. If you know of a fun activity going on around town leave a comment to let us know!
The Kenton County Public Library
Celebrate the Irish all month long at the Kenton County Public Library ~ Music, stories & history
Covington Branch Library – 502 Scott Blvd., Covington – 859-962-4096
Cincinnati Harpers Robin (Everyone) ~ Saturday, March 26 at 2 p.m.
Cincinnati Harpers Robin will perform a concert of tunes from Ireland, Scotland, Wales and other Celtic lands. Takes place at the Baker Hunt Art & Cultural Center.
Durr – 1992 Walton Nicholson Road, Independence – 859-962-4032
St. Patrick's Day Party (Grades K-6) ~ Sunday, March 13 at 2 p.m.
Celebrate St. Patrick's Day with us. We'll play games, make a craft and have treats. Register by calling 962-4031.

Erlanger Branch – 401 Kenton Lands Road – 859-962-4003
5,000 Years of Irish/Celtic Art (Adults) ~ Tuesday, March 8 at 7 p.m.
Discover the history of Celtic art from 3000 BC to the revivals of the present time with artist Cynthia Matyi.
Ireland's Most Intriguing Cities (Adults) ~ Wednesday, March 16 at 7 p.m.
Tour Ireland with Dr. Ray Hebert from Thomas More College.
Celtic Music with Silver Arm (Adults) ~ Friday, march 18 at 7 p.m.
Enjoy a spirited performance featuring energetic instrumentals, haunting ballads and sprightly Irish dance music.
The Luck O' the Irish (Ages 6-12) ~ Thursday, March 17 from 7-8 p.m.
Enjoy a week story or two, share a wee snack and create some luck of your own!
Visit www.kentonlibrary.org/events for more information or for directions.
Cincinnati Museum Center
Celtic Culture Fest
Times: Regular museum hours
Dates: March 12-13
Immerse yourself in Celtic culture with music, food, games, crafts and more! Check out free activities in the Rotunda, and additional programming in the museums that are included with your admission!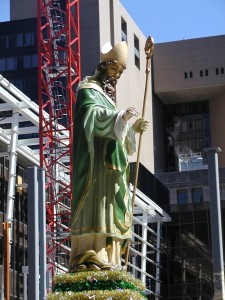 Downtown Cincinnati
Saint Patrick's Day Parade ~ Saturday, March 12th 1pm
Irish Heritage Center of Greater Cincinnati
St. Patrick's Day Parade "Afters" Party ~ March 12th 2011 3-10pm
Featuring Irish music, songs, dance, food, special stories and crafts for children. Book launch and signing of "Fear Not the Storm," the story of Tom Cullen Irish Revolutionary by Irish author Cathal Liam 3:15-6:30 p.m. Children's parade 5 p.m. Finest St. Patrick's Day attire encouraged. Location: 3905 Eastern Ave, Cincinnati, OH 45226 Phone: 513.533.0100
Comboni Mission Center
Irish Festival ~ Sunday March 13th 2-6pm
Enjoy live Irish entertainment, carnival games, good food & drinks, a silent auction and basket raffle, face paiting, an Irish tea room, Mission Museum and more. 513-474-4997 for more information.
Location: Comboni Mission Center, 1318 Nagel Rd. Cincinnati, OH 45255
Hamilton County Public Library
St. Patrick's Day Fun
Irish Step-Dancing: Irish music & dance with the McGing Irish Dancers. All ages. Sponsored by the Kersten Fund.
§ Blue Ash Wednesday, March 9, 7:00 p.m.
§ Deer Park Tuesday, March8, 7:00 p.m.
§ Hyde Park Saturday, March 12, 3:00 p.m.
§ Loveland Tuesday, March 15, 7:00 p.m.
§ Madeira Saturday, March 5, 1:30 p.m.
§ Pleasant Ridge Saturday, March 19, 1:00 p.m.
Pump-it-Up West Chester
St. Paddy's Day Jump-N-Jackpot ~ 7724 Service Center Dr. West Chester, OH 45069
Thursday March 17, 5-7 pm $10 per child. Spend some quality time with your kids at Pump it Up. Wear your favorite green shirt or Irish flair!
Barnes & Noble West Chester
Barnes & Nobles Story Time – Happy St. Patrick's Day – FREE
11:00 AM Mar 17, 2011 ~ Free story-time with a St. Patrick's Day theme. 9455 Civic Centre Blvd. Dr, West Chester, Ohio. Includes a craft and snack. No registration required.
Barnes & Noble Newport
St. Patrick's Day Storytime ~ Saturday March 12th 2011 at 1pm
Join Shannon as he reads St. Patrick's Day themed stories. We'll provide the snacks and crafts – no need to bring your lucky four-leaf clover, you're guaranteed a fantastic time!
1 Levee Way Suite 2127, Newport, KY 41071
And if you're looking for some tasty Irish recipes for dinner on March 17th, check out the following links.  FFC contributor Amy Q. makes these dishes for her family each St. Patrick's Day!  And I tried this stew recipe last year, it's delicious!
http://allrecipes.com/Recipe/Amazingly-Easy-Irish-Soda-Bread/Detail.aspx
http://allrecipes.com/Recipe/Colcannon/Detail.aspx
http://allrecipes.com/Recipe/Beef-and-Irish-Stout-Stew/Detail.aspx