My family fell in love with EnterTRAINment Junction this past summer (see 8/25/10 post), but after reading about A-Maze-N Funhouse on one of my favorite blogs, 365 Things To Do in Cincinnati, I wanted to test it out for myself to take my girls especially since they are offering 50% off admission to the Funhouse during the month of March (only $4.95).
Today we headed over for some fun.  My girls brought along a friend and they were so excited when we arrived.  I had to reign them in a bit and explain that we actually need to buy tickets before charging in full steam ahead (pun intended).  I even steamrolled my husband into coming with us but I think he ended up having as much fun as the kids.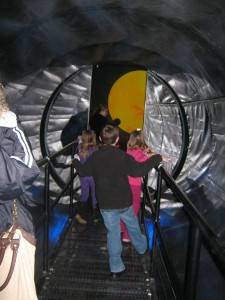 The A-Maze-N Funhouse consists of four main attractions.  We started out in the Outer Limits Journey to the Black Hole.  As you enter the darkened attraction filled with black lights, strobe lights and lots of other visual stimuli, you need to get your bearings (at least if you are in the over 40 crowd). You twist and turn and then end up in the "tunnel".  The tunnel is an optical illusion that can make you dizzy and gives you the sense that you can't walk straight.  The outer rim of the tunnel continuously turns but the platform stays stationary giving you the feeling that you are spinning.  Getting to the other side was quite a feat for my husband and I.  The kiddos seemed to have no problems.  After getting through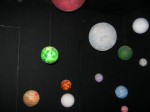 the tunnel, you are immersed in a planetary orbital wonder. Lastly, you have to squeeze through these tight black cushions to get to the exit. K, age 7,  described it as "being squeezed by cushy walls and you kinda breathe and you kinda don't".   This didn't deter her from doing this over and over again but,  I only attempted it once (they have another exit if you don't want to get squished).
Curtain Chaos is a twisty maze where you try to find your way from one end to the other without bashing into a hard wall. Tip – keep your hands in front of you and tap gently to find the curtain to get to the next spot.  In the middle of the maze there are some funhouse mirrors – they make you look short, tall, plump and more.  When I arrived, there were some little ones belly laughing at their reflections and having a great time.
My girls' favorite attraction was the The Clown College.  They enjoyed the optical illusion  room where you look really big at one end and really little at the other (I sort of liked this too – the smaller end that is).  It was fun watching everyone smiling and enjoying themselves here. But, my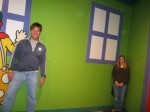 girls all time favorite place was the room that was sloped at a 25 degree angle.  There's a warning label outside this room stating that it could make you dizzy (check) and nauseous.  My girls had no issues here – they loved going up and down the slope and hanging from the bars in the room.  I couldn't deal with that room as well.  I got dizzy and had to step out.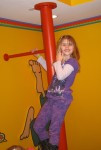 The girls loved it, although tonight K did say that she felt a bit dizzy so it might be best to limit your kids' time in this attraction.
Lastly, you'll want to go through the Mirror Maze.  Here you twist and turn trying to find your way from one end of the maze to the other.  Another word of caution – keep your hands out in front or BAM you may find yourself face to face with a mirror.  Our poor little friend bumped herself  a few times.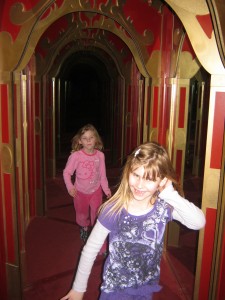 We then took a break and headed to the cafe.  Here they were offering $0.25 hot dogs so we got a quick snack and a drink  to get our bearings back.  Overall, we had a great visit to the A-Maze-N Funhouse and my girls gave it two thumbs up and they want to go back again.  Even though the attraction is open to all, some of the attractions may be a bit overwhelming for preschoolers (The Black Hole is dark).  The attractions post age restrictions and warning labels so take a minute to read them over before entering.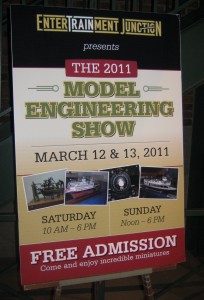 IEnterTRAINment Junction:
7379 Squire Ct.
West Chester Township, Ohio 45069
Cincinnati: 513-898-8000
Toll-Free: 877-898-4656