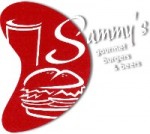 I love a good burger!  A friend suggested that I try Sammy's in Blue Ash.  I was not disappointed.  Joe, Miss bug and I ventured to Sammy's a few weeks ago!  It is a small place on Cornell Rd.  I am so glad that we got there early because by the time we left it was packed!  Just one bite of the burger and I could tell why they were packed!
I started the meal with a cup of clam chowder soup.  It was excellent…even Miss bug liked it!  My chili loving husband tried the chili and he was not disappointed!  He is a what I would call a chili expert and he loved theirs!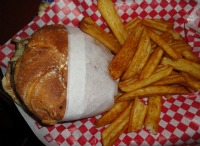 I decided to try their Mushroom burger…mushroom, onions and mozzarella cheese.   (It comes with cheddar cheese, but I opted to switch!)  I am a big fan of mushroom burgers and I have to say that Sammy's mushroom burger is one of my all time favorites!   I can't wait for my next mushroom burger!  Joe opted for the Sammy burger…bacon, a fried egg and mozzarella cheese.  If you haven't tried a fried egg on a burger, you don't know what you are missing!  Miss Bug had the chicken tenders and fries!   They also have corn dogs,  grilled cheese, burgers, mac and cheese, just to name a few!  If you aren't a fan of burgers, you can try one of their wraps or Nathan's hot dogs!
As wonderful as our experience was, I was hesitate to write this post.  But Amy C. thought my experience would put Sammy's on the map as an ultimate Kid Friendly Restaurant.  What happened?    Miss bug decided that she would have one of her "firsts" at Sammy's.  Miss bug had a small chocking episode and decided that it would be a great time to throw up all over the table, floor and her mom!  To say I was embarrassed is an understatement, I was mortified!   The servers were great.  She helped clean up the mess and really tried to lessen my embarrassment!  She really went out of her way to put me at ease!
So if you are interested in a great Kid Friendly Burger Joint…check out Sammy's! http://www.sammysnow.com/
Sammy's Gourmet Burgers
4767 Creek Road, Blue Ash, OH 45242
513-745-9484
Mon-Sat 11 to 11; Sun 11 to 9